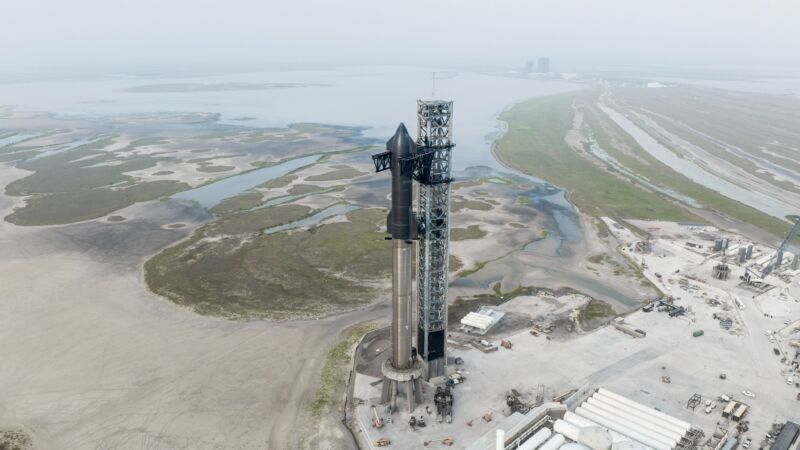 This weekend SpaceX engineers completed a final "flight readiness review" for the massive Super Heavy and Starship launch system, declaring the vehicle ready to make its debut test flight. SpaceX founder Elon Musk announced the decision early Sunday morning on Twitter, saying the vehicle was only "awaiting regulatory approval" before launching.
Presently, the company is targeting April 17, at 7 am local time in South Texas (12:00 UTC) for the integrated flight test of the launch system. It should be quite a show—the combination of the Super Heavy first stage and Starship upper stage is the largest and most powerful rocket ever built. Sources said SpaceX has been working closely with the Federal Aviation Administration to provide the necessary data about Starship's performance and its impacts to the area surrounding the launch site. There is an expectation that a launch license will be issued this week, but there is no guarantee this will happen.
SpaceX also plans one final test, a "launch rehearsal," on Tuesday. During this test the rocket's first and second stages will be fueled as if they were going to launch, but the rocket's engines will not ignite. This test will increase the company's confidence in its ability to fuel the Starship launch system and ready it for liftoff on the day of the actual launch. If SpaceX does target Monday, April 17, for liftoff from its Starbase facility in South Texas, the early indications are that launch site weather will be fair. At present there appears to be only very low rain chances and moderate surface-level winds.
During this flight test, if it proceeds nominally, the Super Heavy rocket will fire for a couple of minutes before separating from the upper stage and making a controlled descent into the Gulf of Mexico. Like SpaceX did with some of its early Falcon 9 rocket first stages, the company will monitor the vehicle's performance to see if they are ready to attempt a land-based landing on future missions. After separating from the Super Heavy rocket, the Starship upper stage will seek to reach orbital velocity before reentering the atmosphere over the Pacific Ocean. SpaceX plans to land Starship vertically, into the ocean, north of the Hawaiian islands.
https://arstechnica.com/science/2023/04/spacexs-starship-vehicle-is-ready-to-fly-just-waiting-for-a-launch-license/
Comment: Once the bureaucrats are assured that all the papers are in order, we are in for a real show… one way or the other. Elon gives the mission a 50-50 chance of success. As long as the whole thing doesn't blow up on the launch pad and take out a lot of the launch infrastructure with it, it will be a success. I don't think Starship is scheduled to orbit the Earth this time, but still has to do a reentry. At least the tiles are a more proven technology than the original plan of oozing rocket fuel through holes in the hull as a coolant. And then Starship is supposed to either land on a barge for the first time or vertically into the ocean. I've read different orbiting and landing scenarios in recent stories. Like I said, it'll be a real show one way or the other.
If all goes well, or even mostly well, humanity will soon have a space lift capability far beyond anything we have ever had before. We can colonize the Moon and Mars, place telescopes in space that dwarf the James Webb Observatory and build a space station like the one in 2001: A Space Odyssey. That is if we can first pull our collective heads out of our collective asses. Russia is still building her interplanetary nuclear powered space tug and China has demonstrated some amazing space know how. If we can work together in this one arena, rather than working to blow each other's stuff out of space, we can embark on a real age of space discovery.
TTG