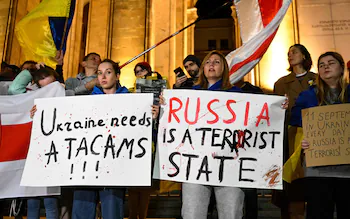 "The Russian people are losing faith in Vladimir Putin's "war of choice", the head of GCHQ has said.
It is becoming clear to the Russian people quite how badly Putin has "misjudged the situation," according to Sir Jeremy Fleming.
The Director of GCHQ, Britain's cyber security agency, will use a speech in London on Tuesday to highlight the ongoing threats from Russia and China.
He will say Russian forces are now in a "desperate situation" as they seek to prosecute the disastrous war in Ukraine.
Sir Jeremy will say: "Far from the inevitable Russian military victory that their propaganda machine spouted, it's clear that Ukraine's courageous action on the battlefield and in cyberspace is turning the tide.
"Having failed in two major military strategies already, Putin's plan has hit the courageous reality of Ukrainian defence.
"With little effective internal challenge, his decision-making has proved flawed. It's a high-stakes strategy that is leading to strategic errors in judgement.""
Comment: "There is no substitute for victory." Vlad the Impaler II is learning the truth of that the hard way. pl
Russian people turning on Vladimir Putin and his war, UK spy chief says (telegraph.co.uk)