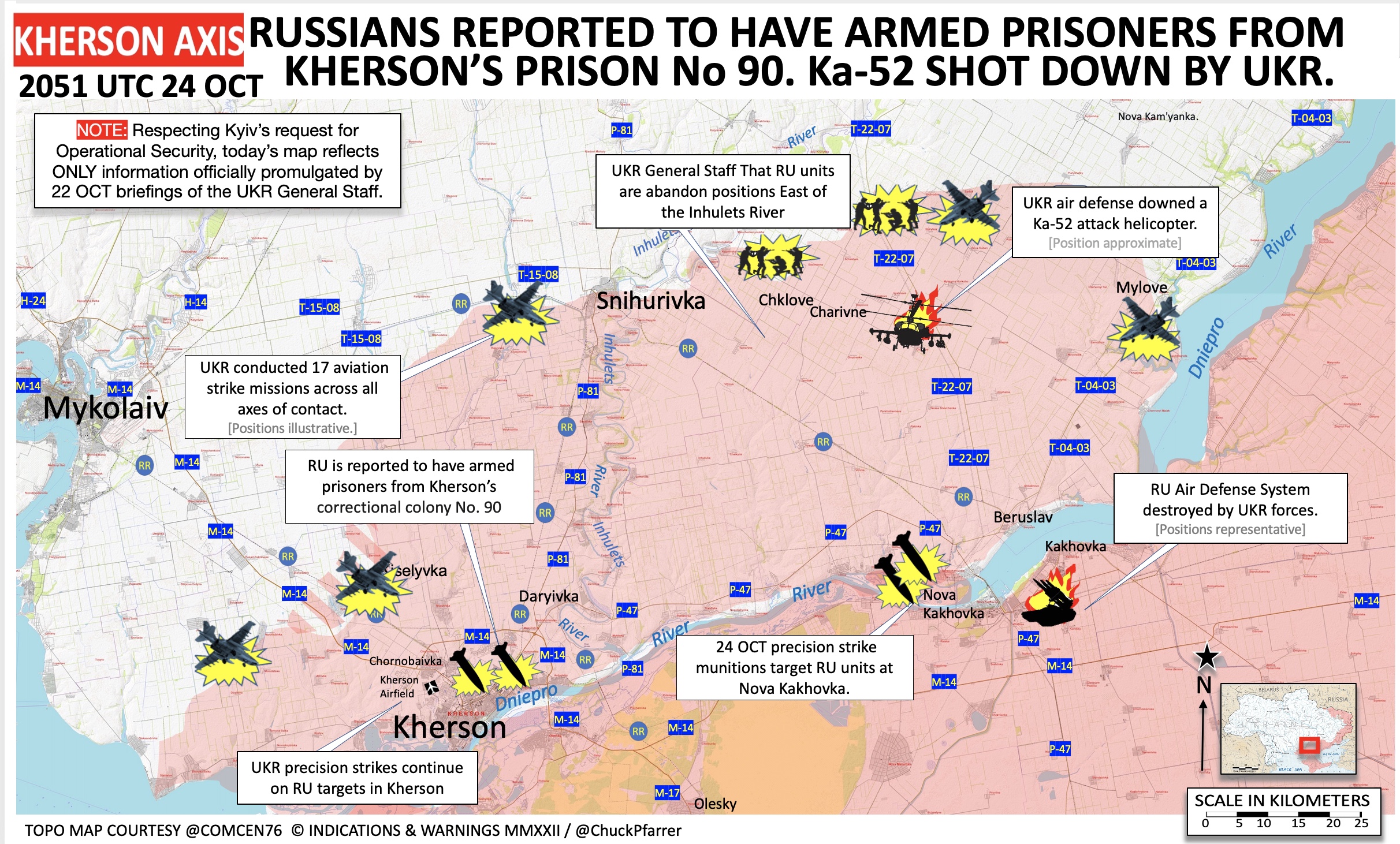 This is part of an interview conducted today with Kirilo Budanov, Ukraine's military intelligence chief, by Roman Kravets of "Ukrainska Pravda."
https://www.pravda.com.ua/articles/2022/10/24/7373160/
– Recently Surovikin said that "difficult decisions may be made" in Kherson. What did he mean?
– They understand that Russia is going to lose both globally and locally. If he can say that "it's not my business" about a global loss, but for a local one, Surovikin will be responsible. He prepares the groundwork so that, if a decision is made to surrender the city, or they will simply be kicked out, the groundwork will be prepared and somehow it will all go smoothly. But at the same time, I cannot tell you that right now they are fleeing from Kherson. No, there is no such thing.
– We have also seen statements by the occupation authorities that they are going to "evacuate" the population to the left bank of the Dniepro. What is happening in Kherson now?
– In many aspects, this is an information operation and manipulation. There are certain facts. For example, "Promsvyazbank" and other financial structures that the Russians brought there are being withdrawn. Moreover, as they are being taken out, they are taking out cash, servers, the so-called occupation authorities are being transferred, all the non-walking, seriously injured are being taken out. They are trying to discharge those who can walk as soon as possible from hospitals, and they are conducting this crazy information campaign that "we care about people " and so on. That is, they create the illusion that everything is gone. And at the same time, on the contrary, they bring new military units there and prepare the streets of the city for defense.
That is, they understand that if we take control over the Kakhovka dam, which is the only transport artery that is functioning now, they will have to make a decision very quickly. Either very quickly leave the city and get out, or they risk ending up in the same situation that our units in Mariupol found themselves in earlier. The situation is a little different, but conceptually it will be very similar. And understanding all this, they are preparing the groundwork so that, if necessary, they can get out of there very quickly. However, they are not preparing to exit now, they are preparing to defend.
– You mentioned the Kakhovka dam. There are constant reports that it is now mined. What is the threat that the Russians will launch a terrorist attack?
– It is partially mined, that's true. Well, it is very difficult to evaluate the stupidity of Russians with some logic. I will say this. Blowing up this dam will definitely cause an environmental disaster, that's a fact. There are just other aspects. First: why do it – what will they lose and what will they gain? And the second: you can partially blow up the dam, or you can blow it up completely. So, in order to undermine it completely, such works have not been carried out. Mining is carried out partially for partial destruction, if necessary. To destroy a structure of this level, tens of tons of explosives, correctly placed, are needed. You can't put a Kamaz somewhere nearby, it won't help.
– If we start entering Kherson, they can use the chance to blow up the dam?
– Let's go from the opposite. If it is destroyed completely: they will launch all the missiles that are available, plant a bunch of explosives, somehow try to do it – what will they get? They will receive continuous flooding of the left bank of the Kherson region. They will lose the possibility of supplying water through the North Crimean Canal to the Crimea until we rebuild the dam. That will take a very long time. It will be impossible to do. And the most interesting thing is that they will totally disable the Zaporozhye nuclear power plant, because the dam is inextricably linked with it. Well, of course, they will make it difficult for us to advance for a certain period of time. And this, by the way, is not a very long period of time, it will be somewhere around two weeks. But they will be forced to retreat directly to the Crimea. In other words, if you make a complete destruction, that's the scenario. Are they ready for it? I think not.
Comment: So the notion that Russian forces were going to soon abandon Kherson is not shared by the Ukrainian DIA. Wishful thinking, I guess. I wouldn't want them to get away anyways. But they're definitely shrinking their perimeter. The Ukrainian General staff announced Russian units are abandoning positions east of the Inulets River and that 90 settlements were liberated in Kherson Oblast today. Don't know if that includes any territory in the Mylove-Beryslav region on the river. At any rate, Ukrainian artillery will be getting closer to the Nova Kakhovka Dam. 
I've also seen reports that Russia is no longer supplying artillery ammunition to units on the right bank of the Dniepro. While the defense of Kherson can be supported from the left bank, those Russian forces now on the perimeter are pretty well screwed. I guess you can't be ferrying ammunition when you're busy stealing everything not nailed down and some things like statues. There won't be much left to destroy if this does devolve into an urban battle.
TTG