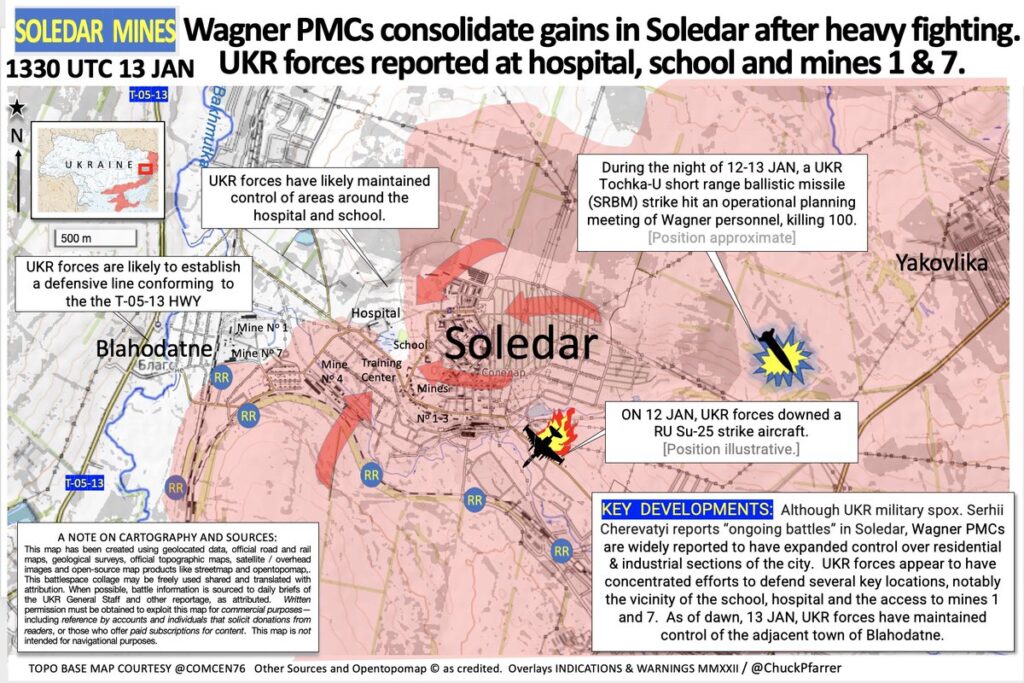 Russian forces' likely capture of Soledar on January 11 is not an operationally significant development and is unlikely to presage an imminent Russian encirclement of Bakhmut. Geolocated footage posted on January 11 and 12 indicates that Russian forces likely control most if not all of Soledar, and have likely pushed Ukrainian forces out of the western outskirts of the settlement. The Ukrainian General Staff reported that Ukrainian forces repelled Russian attacks against Sil in Donetsk Oblast—a settlement over a kilometer northwest of Soledar and beyond previous Ukrainian positions. The Ukrainian General Staff and other senior military sources largely did not report that Ukrainian forces repelled Russian assaults against Soledar on January 12 as they have previously. Russian sources claimed that Russian forces are still clearing Soledar of remaining Ukrainian forces as of January 12. Russian milbloggers posted footage on January 12 of Wagner Group fighters freely walking in Soledar and claimed that they visited the settlement alongside Russian forces. The Russian Ministry of Defense (MoD) has not announced that Russian forces have captured Soledar, but Kremlin spokesperson Dmitry Peskov congratulated Russian forces for successful offensive operations in the settlement. All available evidence indicates Ukrainian forces no longer maintain an organized defense in Soledar. Ukrainian President Volodymyr Zelensky's January 12 statement that Ukrainian forces maintain positions in Soledar may be referring to defensive positions near but not in Soledar.
Russian information operations have over exaggerated the importance of Soledar, which is at best a Russian Pyrrhic tactical victory. ISW continues to assess that the capture of Soledar—a settlement smaller than 5.5 square miles—will not enable Russian forces to exert control over critical Ukrainian ground lines of communication (GLOCs) into Bakhmut nor better position Russian forces to encircle the city in the short term. Russian forces likely captured Soledar after committing significant resources to a highly attritional tactical victory which will accelerate degraded Russian forces' likely culmination near Bakhmut. Russian forces may decide to maintain a consistently high pace of assaults in the Bakhmut area, but Russian forces' degraded combat power and cumulative exhaustion will prevent these assaults from producing operationally significant results.
https://www.understandingwar.org/backgrounder/russian-offensive-campaign-assessment-january-12-2023
Comment: Prigozhin was claiming that Soledar was in his Wagner Group's hands on 10 January and that the Ukrainian defenders were surrounded, surrendered or killed. It was a dramatic statement along with a dramatic photo of a tac'ed up Prigozhin with some of his boys in a mine tunnel. That photo could have been taken in a peripheral tunnel of the Soledar salt mines. It certainly wasn't one of the main tunnels where concerts were often held prior to this war. It was more likely taken in some other mine tunnel in Donetsk. Prigozhin is certainly milking his conquest or near conquest of Soledar for all that it's worth. A victory here is good news for the Kremlin. It would be even better news for Prigozhin's prospects in the ongoing Kremlin palace intrigues.
As ISW explains, the capture of Soledar is not of great military significance, especially at the cost involved. However, I believe the capture of those expansive mine tunnels would give Prigozhin a well protected area to amass ammunition and other supplies and a place to house his mercenaries, mobiks and convict soldiers where the HIMARS can't hit them. The mine entrances may not be so invulnerable though.  And the Ukrainians already know exactly where they are located.
TTG