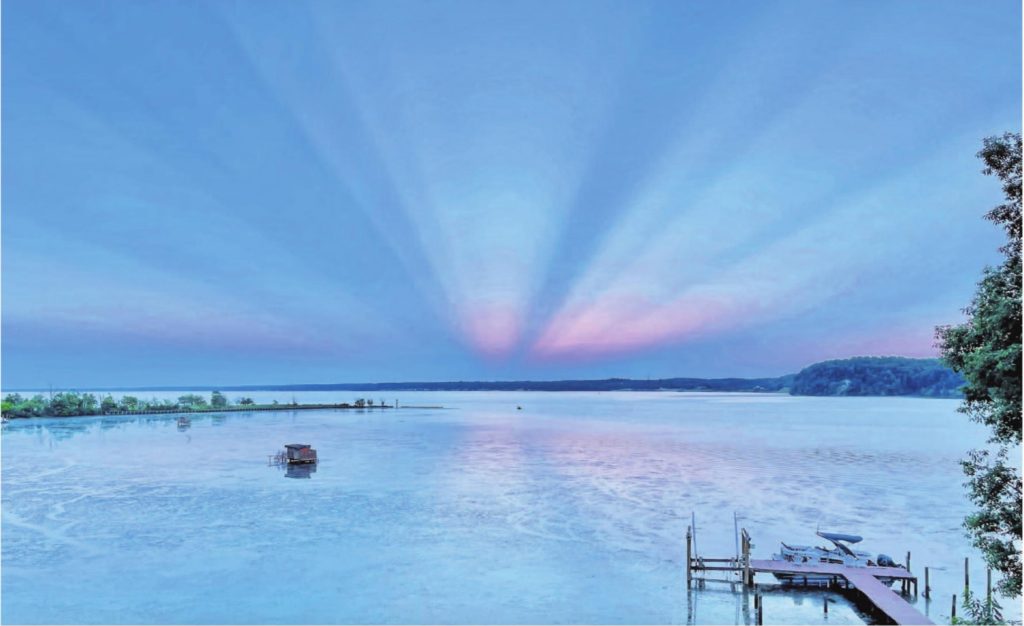 "Anne Hupka of Stafford County recently captured this photo of anti crepuscular rays from her family's home on the Potomac Creek. Similar to the shafts of light we see shining from the sun, anticrepuscular rays appear in the sky opposite the sun's location. They are typically fainter than crepuscular rays or sunbeams, and most frequently visible at sunrise or sunset." (Free Lance-Star)
Comment: Ahh, again the joys of my local paper. This photo spanned the full width of the page. I just sat there admiring its magnificence as I sipped my tea. It shows the mouth of Potomac Creek as it empties into the Potomac River. The land in the distance is either the Maryland shore or the Fairview Beach/Caledon Park area on the Virginia shore. It's hard to be sure since the Potomac River takes a ninety degree bend just south of Potomac Creek. In either case the far shore is at least two miles in the distance.
I know the area fairly well from walking in the nearby Crows Nest Natural Area Preserve and kayaking the tidal waterways in my retirement. Before this I enjoyed similar magnificent views taking the commuter train from Quantico to DC for quite a few years. When the sunrise over the Potomac coincided with the commute, the beauty of the moment quenched my soul.
I also learned something from this photo in yesterday's paper. I knew about crepuscular rays and occasionally enjoy using the term, but I was totally unaware of anti crepuscular rays. Now I'll be on the lookout for them.
BTW, the new wood stairs are in and I finished the floor in the upstairs hallway. As soon as I finish with the thresholds and trim, I'll put something together about Father Pierre Teilhard de Chardin, SJ. I know I promised something a few days ago.
TTG