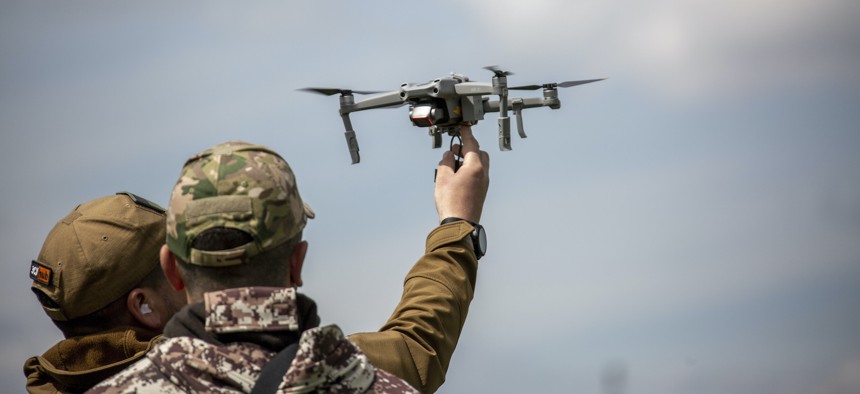 This is a short Twitter thread from @Tatarigami_UA, a Ukrainian reserve military officer.
I came across an article today in The Washington Post that discusses the counter-offensive. I usually refrain from criticizing leaks, recognizing the importance of journalistic work. Nevertheless, in light of the statement in the article, I want to provide some counterpoints:
Pentagon officials have also urged Ukraine to rely less on drones for battlefield awareness and more on ground reconnaissance forces, which can assess Russian positions better. And they have pressed Kyiv to give junior officers more latitude to exploit opportunities along the sprawling front. On all these points, U.S. officials believe the Ukrainians are responding positively. But the discussion has been prickly in recent weeks.
It is challenging to ascertain the credibility of the official giving the commentary. It remains unclear whether the statement accurately reflects Pentagon's stance, if it was a journalist's interpretation of an official's words, or it was an actual statement. Should we accept this statement at face value, it is arguably one of the worst statements I have encountered recently. The statement raises doubts regarding the authenticity of the statement itself. Drones play a pivotal role in minimizing the risk to service members lives.
The majority of frontlines are heavily mined and under constant surveillance by drones, maximizing the risk of reconnaissance missions. Opting to jeopardize human lives over the loss of a drone not only lacks compassion but is also imprudent and devoid of logical rationale. Whether it's just an inaccurate reporting or an unreliable source, I hope that this statement is a misrepresentation of someone's remarks, rather than an actual viewpoint originating from within the Pentagon. This argument just doesn't hold water.
Trent Telenko, another long time twitter commentator had this to add.
After the Sept 1940 fall of France to German Panzers, General Herr argued before Congress for more horse cavalry. This paragraph from wikipedia on Herr applies to those Pentagon officials talking about drones to the Washington Post in the @Tatarigami thread:
Historians' assessment of Herr's four-year service as Chief of Cavalry range from "stubborn obstructionist" (Hofmann) " conservative and downright mossback" (Millett) "diehard proponent of the horse" (Winton and Mets) to "noble and tragic in his loyalty to horse … and refusal to accept reality after Munich." (Jarymowvcz) and "gallant and highly regarded officer … proof that outdated beliefs would die hard" (D'Este)
We are in the age of drones. Drones are cheaper to lose than soldiers afoot or in vehicles doing ground patrols for the same information. FPV Quadcopters can fly between tree branches. Just look at what you can see in this drone review video.
You can't fly a crewed scout helicopter that low and that close with an affordable loss rate. Nor can a M3 Bradley Cavalry Fighting Vehicle get that close in the face of artillery forward observer drones. Anyone telling Ukraine to use fewer drones fighting Russia is in the same obsolete world view/mental space as as General Herr was telling Congress after the fall of France in 1940 that the US Army needs more horse cavalry. Those Pentagon officials talking about less drones and more men in August 2023 are as outdated & obsolete as General Herr was when he was arguing for more Horse Cavalry and less tanks in the fall of 1940.
Comment: As Tatarigami points out, it's quite possible that either the Pentagon source or the WaPo reporter or both don't know their ass from a hole in the ground. If the report actually reflects a legitimate DoD point of view, then the greater US defense establishment has difficulty ascertaining the difference between their collective asses from said hole in the ground.
We know the value of strategic reconnaissance and surveillance drones. We lead the way in this field. Surely we can grasp the importance drones play on the tactical level. I can see our tables of organization and equipment and our military occupational specialties quickly changing to accommodate these tactical reconnaissance and surveillance drones. Forward observers for artillery and mortars will be all trained and equipped to use drones. There will very likely be a drone section in every infantry weapons platoon and a drone platoon in every combat support company. The scout platoon will surely have drone operators in every squad. Even a rifle platoon may have one or two drone operators. I can see every tank and IFV having drones just like they have smoke grenade dispensers.
This is just one lesson that every military in the world will take from this war. We will still seek air dominance, but we should be adapting our SEAD capabilities to address emerging A2/AD capabilities. We should also be learning how to operate without that air dominance. We should at the very least be relearning a few simple things like designating air guards for every vehicle and dismounted unit on the battlefield and practicing the techniques of infantry defense against aerial threats. Our MIC also has a lot to learn or relearn.
BTW, Ukraine said it attacked an airfield at Kursk using sixteen Australian made cardboard drones in the last day or so. Sounds like a nightmare to the beltway bandits seeking lucrative defense contracts.