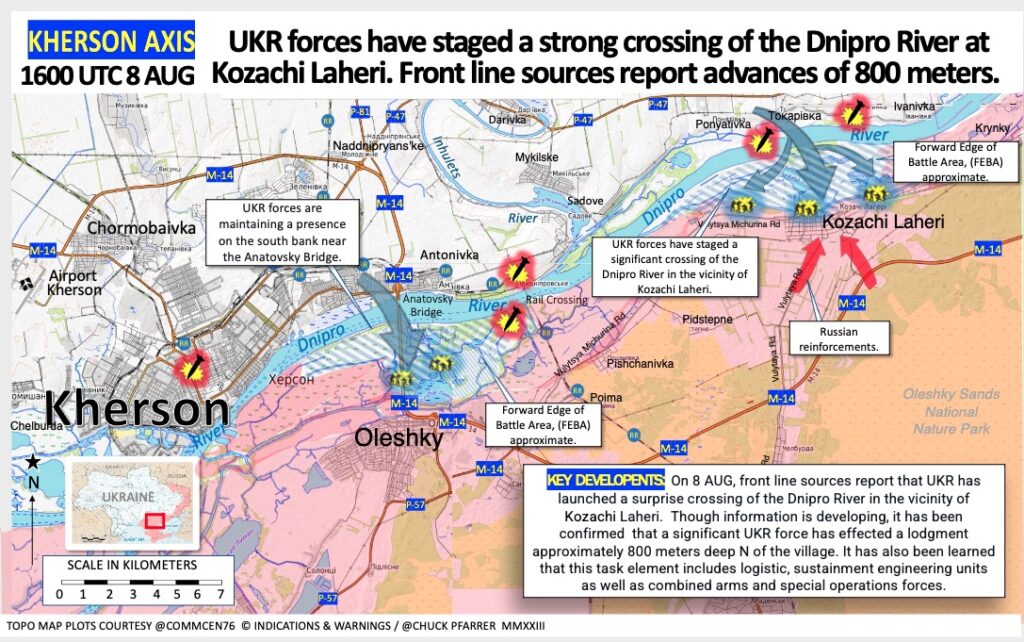 1. New Dnipro River thread/Kozachi Laheri landings. Russian Telegram channels report today that UAF landed at Kozachi Laheri with ongoing fighting. Some inform on UAF 'presence' west of the village. https://t.me/romanov_92/41081 gives a specific location at 46.707197, 32.946664.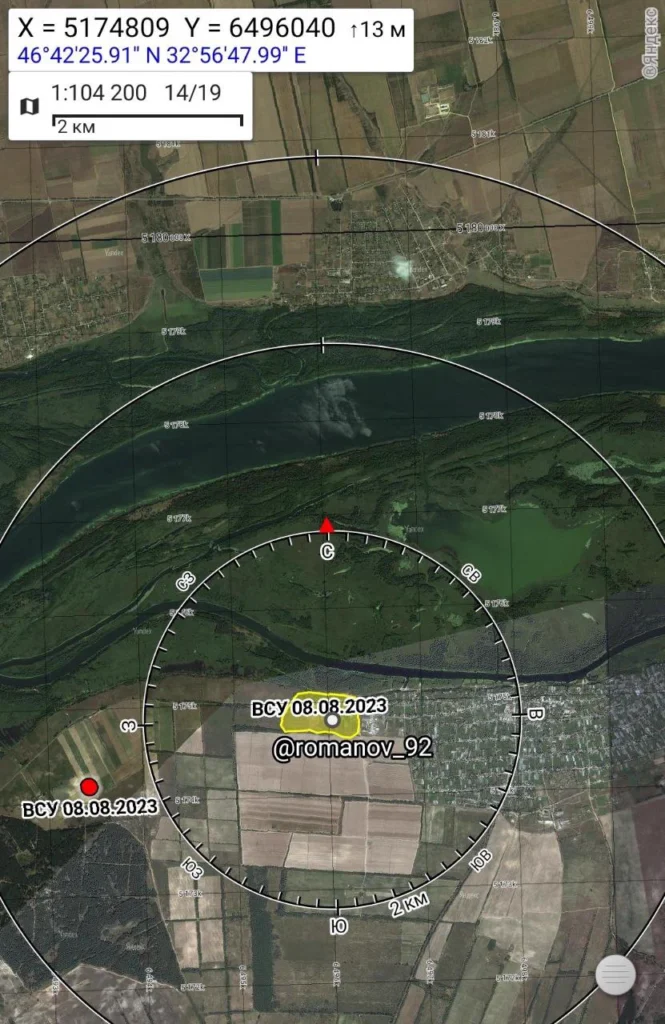 2. Russian blogger Rybar reports today: At night, seven UAF boats landed up to seven groups of 6-7 men after launching a smoke screen west of the village and struck from the flank. I have seen imagery of the destruction of a Russian AFV vehicle approximately 2.7km west of the village at spot where Rybar marks with a gun symbol. Exact timing of destruction unclear. The source and the imagery itself can't be released for now.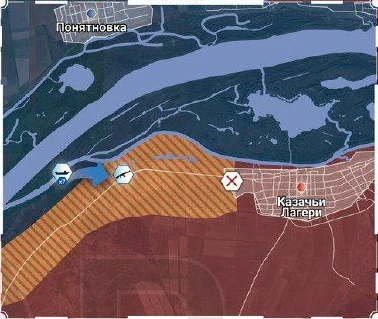 3. Dubious Russian film NOT from Kozachi Laheri explained in tweet. Russian bloggers since report Russian Major Tomov of Battalion 1822 and a 16 man recce group are MIA at the location of the red dot in tweet 1. UAF seem to know where he is/was. Expect more later;)
4. Reportedly three Russians and weapons captured in or near Kozachi Laheri. Earlier today I received word of at least one Russian POW from Major Tomov's missing unit, but so far I can't confirm they are same.
5. Today Russian blogger 'Thirteenth' who serves in the area reports the loss of 25 Russian KIA+POWs in yesterdays fighting including Major Tomov's lost group which he reports was ambushed.
6. Yesterday Izvestia sent a team to show RuAF control of the village. (Ukraine did not claim it yet, but rather territory to its west). They approach from south:
Large sign 46.641818, 32.947721
Small sign 46.695842, 32.968270
Check point 46.698032, 32.969264
Bus stop 46.698607, 32.969809
7. This is the destroyed RuAF AFV that I mentioned yesterday in tweet 2 that I had seen, thus evidencing that combat had taken place 2.7km west of the village at spot where Rybar also marked fighting. It is a BTR-82A or variant hit by UAF mortar fire. Its location is 46.707495, 32.910227.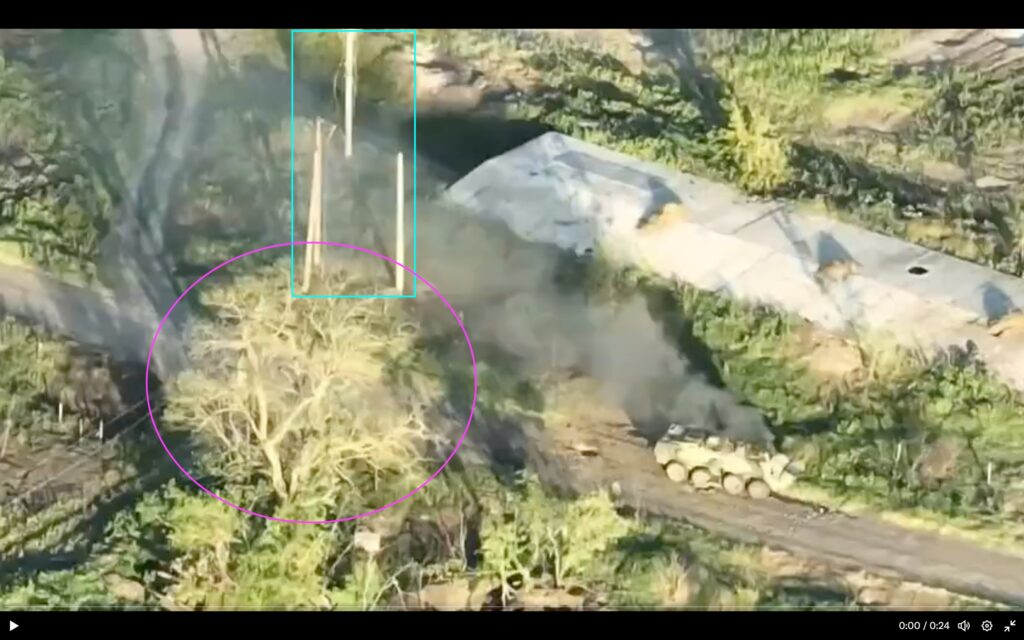 8. Geolocation of a destroyed Russian BTR-82A or variant mentioned in tweet 2 and 7 at 46.707495, 32.910227. This evidences that combat had taken place 2.7km west of the village at spot where Rybar also marked fighting. 
9. A UAF barrage from a reported Czech RM-70 Vampires MLRS hits the northwestern outskirts of Kozachi Laheri. The large block is at 46.706679, 32.954072 viewed from the west. h/t @EerikMatero and @fdov21. The film was sent yesterday but I could only share it after a delay.
10. A thread of 4 geolocations from yesterday's Izvestia visit to the village filmed in tweet 6. They only visit the southern edge of the village. As mentioned UAF have not yet claimed control of this area, but rather an area to its west.
https://twitter.com/Danspiun/status/1688887092854550529
Comment: The Ukrainians have established another small bridgehead on the left bank of the Dnipro. This one appears to have at least penetrated into the settlement of Kozachi Laheri. Information is sparse and comes almost exclusively from Russian Telegram channels. At least one Telegram poster shows Ukrainian probe further south towards  and the E58 road. This road is important because it is the main route to Melitopol from Crimea via Armiansk. The road already runs uncomfortably close to the Dnipro and Ukrainian artillery fire from the right bank. And, of course, the Quisling Saldo claims the Ukrainian force was totally destroyed and pushed back into the Dnipro.
This bridgehead appears to be only platoon strength although I would think it was reinforced once initial success was achieved. The push towards Chelburda and the E58 may be more aspirational at this time given the small Ukrainian force across the Dnipro, but the Russian defenders may also be few and far between, at least for now. The VDV brigade was recently pulled from this front to reinforce the defenses further east and the 10th Spetsnaz brigade may be more sad sack mobiks than elite commandos. It's a war of opposing patrols backed up by artillery on the Kherson front, but it has the potential to be much more important if not decisive.
TTG