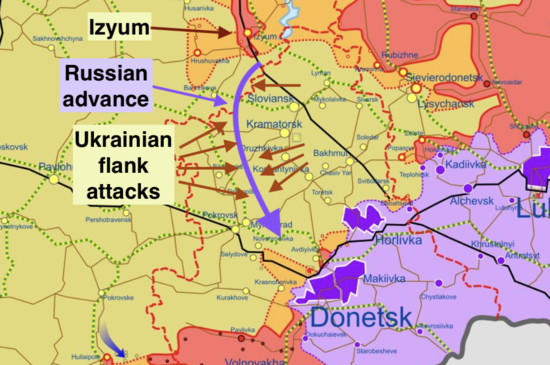 The obvious goal is to try and enact a pincer maneuver from Izyum in the north, to Mariupol in the south, to trap the third (or so) of the Ukrainian army currently holding defensive entrenched positions on the border with the purple separatist-held area. Efforts to breach those defensive positions head-on have repeatedly failed, all the way back to 2014, hence the effort to surround them and cut them off from supplies and reinforcements.
The pincer maneuver is tough enough, requiring Russia to stretch out around 200 kilometers (~120 miles). This opens them up to the same resupply issues they faced up in their Sumy-to-Kyiv effort, while simultaneously exposing themselves to flank attacks from both the east and the west. 
I noted over the weekend that there is little indication Russia can mass the kind of forces needed to make a real go at this. The existing, obvious plan is already a bit of a Hail Mary pass, as Russia desperately tries to notch any success in time for Vladimir Putin's precious WWII commemorative parade on May 9. 
Yet despite the difficult odds, Russia is supposedly looking to additionally march on Dnipro? Let's get a close-up of the route Russian forces would have to take: 
https://www.dailykos.com/stories/2022/4/11/2091271/-Ukraine-update-Russia-will-break-new-records-of-stupidity-if-it-really-thinks-it-can-move-on-Dnipro
Comment: This commentary and analysis is from Markos Moulitsas of the Daily Kos, a progressive news site that I never would have pegged for incisive military analysis. But here it is. His commentary has been consistently good. All you diehard Russophiles may have to hold your noses to get through the inevitably progressive, pro-Ukrainian snark, but it's worth a regular read.
In this and several related articles, Kos lays out reasons why forming "The Cauldron," or the even more ambitious drive to Dnipro, may not have the desired effect of demilitarizing Ukraine. One reason is obvious from the above map.  A narrow assault south from Izium will expose the Russians to flank attacks from both sides of the assault column by a concentration of Ukrainian forces operating from prepared defensive positions. The rainy season is in full swing and the Russians have already proved themselves unwilling or unable to operate away from roads. The Russians also lack the ability to make deep lightning strikes. That ability vanished in the first 48 hours of the invasion. Their forces are attrited, their leadership is poor and their ability to keep their forces properly supplied and maintained has not improved. Their morale is in the toilet for all those reasons. Plus, there is no surprise involved in trying to form the much ballyhooed cauldron. 
What makes matters worse is Putin's artificial timetable of a major victory in the Donbas by 9 May, Victory in Europe Day. Russian forces will continue to make rash, piecemeal attacks to push the offensive forward. They have the numbers and firepower so they should be able to continue to make slow, costly progress, but at a great price. IMO, that slow motion offensive on a narrow front against a determined, though also attrited, foe will be more like sticking one's wanker into a meat grinder rather a glorious formation of the cauldron that will end the war.
TTG