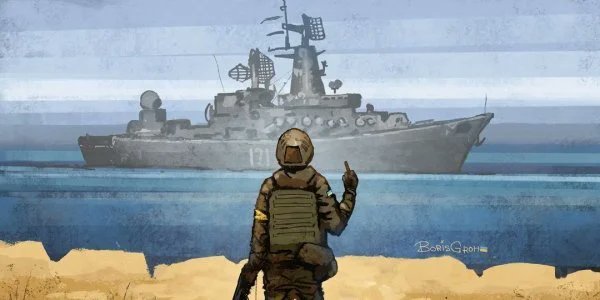 There are unconfirmed reports that a Ukrainian navy missile battery has struck the Russian navy cruiser Moskva off the coast of Odessa, a strategic port city on the Black Sea in southwest Ukraine.
Multiple Ukrainian government officials claimed Wednesday that a Neptune anti-ship battery, apparently hidden in or around Odessa, scored two hits on Moskva, setting the 612-foot vessel ablaze. Anton Gerashchenko, an adviser to the Ministry of Internal Affairs in Kyiv, announced the strike. So did Maksym Marchenko, head of the administration in Odessa. "Neptune missiles … caused very serious damage to the Russian ship," Marchenko said.
https://www.forbes.com/sites/davidaxe/2022/04/13/the-ukrainians-claim-they-damaged-a-russian-cruiser-be-skeptical/?sh=4eb64ea43971
Comment: When this article came out, it was just a rumor, an unconfirmed claim. Since then additional information has come out. The Moskva was monitored sending out a Morse code SOS. Naval signals out of the Black Sea are lighting up with ciphered messages. Open source maritime radar is showing multiple rescue craft converging on the last known location of the Moskva, near Snake Island, a couple of hours ago. And finally, the Russian Ministry of Defense put out the news that, as a result of the fire on the missile cruiser Moskva, ammunition has detonated and the ship was severely damaged. This may be much more than a wartime rumor.
The Moskva is the flagship of the Black Sea Fleet. As such, her loss would be a severe psychological blow to the Russians. Beyond the symbolic loss, she's heavily armed with 16 fixed launchers for P-1000 anti-ship missiles, vertical tubes for 64 S-300 air-defense missiles and rail launchers for 40 Osa missiles for aerial self-defense, plus a bevy of guns. The Moskva is the main air defense system the Russians have to protect their ground forces along the coast. The Moskva's loss would greatly lessen the threat of an amphibious attack on Odesa. 
TTG