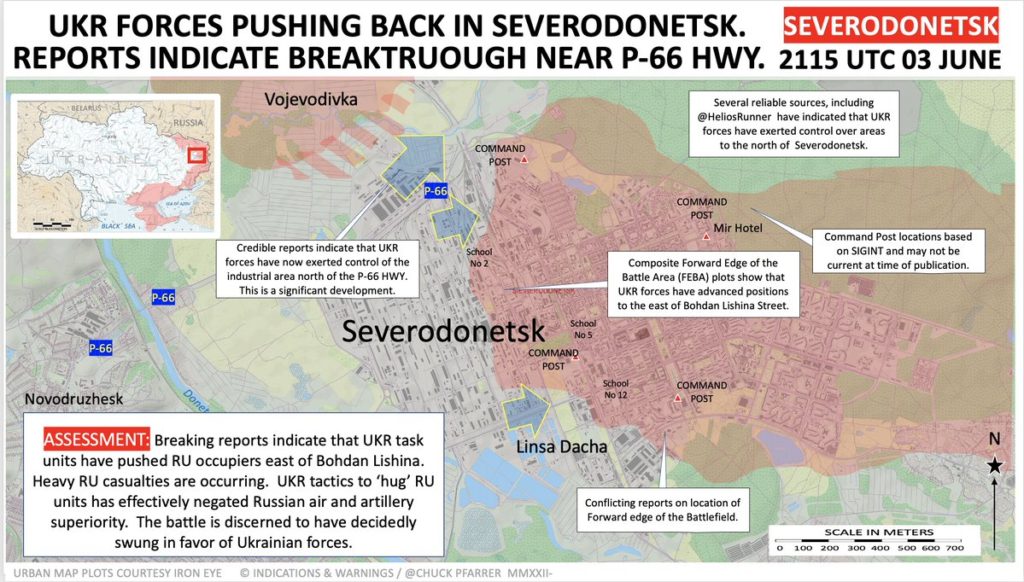 The unlikely defense of Severodonetsk continues, with jaw-dropping results. On Thursday morning, the mayor of the town announced that Russia was in control of Severodonetsk. Then Ukrainian Forces launched a counterattack that included discussion of the whole city being a trap for overconfident Russian forces. By some estimates, only about 30% of the city is now under Russian control.
On Friday, Ukraine reportedly controls a majority of Severodonetsk, including the city center, and has been continuing to gain ground. In addition, Ukrainian forces have pushed Russian forces out of adjacent villages and put a large area back into dispute. The push back into the city center seems to have included forces from the Ukrainian Foreign Legion.
If things start to turn sour in Severodonetsk, Ukraine can always retreat across the bridge to Lysychansk, but at the moment holding Severodonetsk seems to represent great symbolic value and a genuine military win. How much damage they're actually doing to Russian forces in this location is going to take some time to figure out, but it's never good to be the army that had been moving forward, then finds itself going into reverse.
https://m.dailykos.com/stories/2022/6/3/2102093/-Ukraine-update-No-shortage-of-action-on-every-front
Comment: It appears that Ukraine is not quite ready to give up the fight for Severodonetsk and skedaddle to Lysychansk on the west bank of the Siverskyi Donets River. This local counter-offensive is a daring maneuver exhibiting exceptional deception and surprise. Until now fighting on this front involved massive artillery and air strikes on prepared Ukrainian defenses followed by repeated frontal assaults on those positions until the Ukrainians are forced to withdraw due to exhaustion and casualties. Artillery dictated the course of the battle.
In this case, the Ukrainians deliberately withdrew and then hit the Russians at the point when they were attempting to consolidate their advance into Severodonetsk, a critical and dangerous time for any assaulting force. In addition, the counter-attack took place in urbanized terrain where small unit leadership and initiative reigns supreme. The depleted Russian units lacked these qualities a hundred days ago. The fighting is reminiscent of Viet Cong hugging tactics or the tactics of Vasily Chuikov at Stalingrad. These tactics negate the effectiveness of the enemy's artillery and air power. All in all, this is a pretty slick operation.
I can think of several possible reasons for launching this counter-attack. Perhaps the Ukrainians have determined that the Russians on this front are at or near a culmination point and it was the right time and place for going on the offensive. Or, knowing the Russians fixation on taking this one particular city no matter the cost, the Ukrainians couldn't pass up the chance to inflict more casualties on an enemy irrationally fixated on this single objective. Or perhaps Severodonetsk is becoming as much a fetish object to Kyiv as it obviously is to Moscow. Kyiv cannot afford to do that.
TTG
* I mean fetish in the anthropological sense – an object (such as a small stone carving of an animal) believed to have magical power to protect or aid its owner; a material object regarded with superstitious or extravagant trust or reverence; an object of irrational reverence or obsessive devotion.