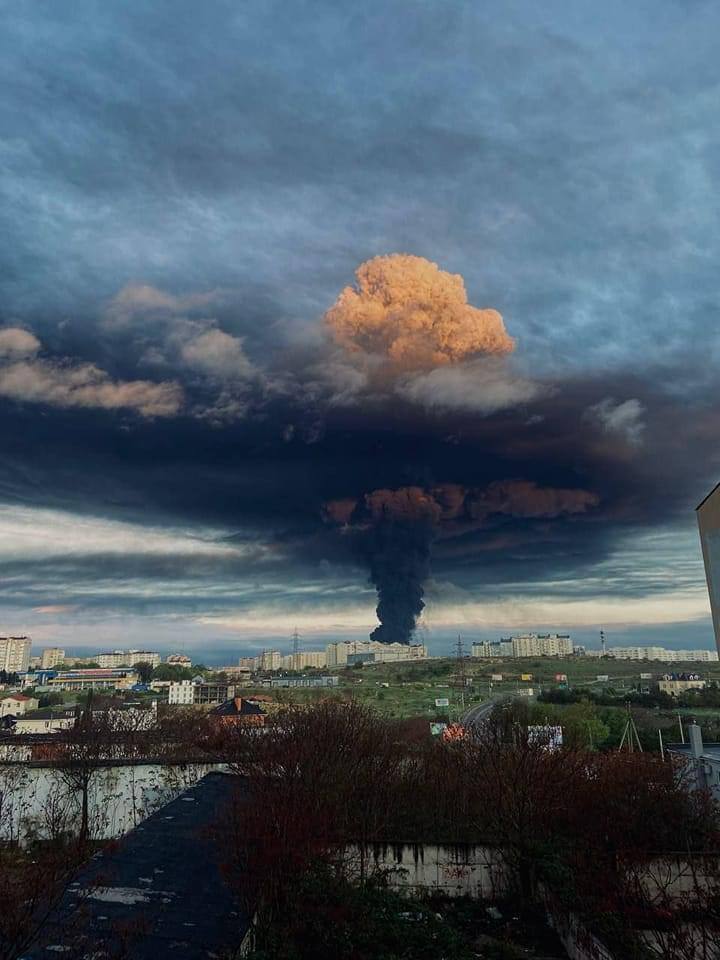 Shortly before dawn, an attack on the Russian oil refinery and fuel storage field at Sevastopol in Crimea resulted in an enormous fire that sent a column of thick, black smoke above the nearby city. Russian sources claim that the fire is the result of a Ukrainian drone attack. Ukrainian government sources have not confirmed that Ukraine is responsible, but have stated that the fuel at this facility was intended for Russia's Black Sea Fleet. They also had one more message to pass along: "The explosions in Sevastopol are God's punishment for Uman!"
The attack—assuming it was an attack—appears to have struck a large collection of storage tanks at a Chornomornaftogaz facility carrying not just crude oil, but refined products like diesel fuel. By early Saturday morning, the fire appears to have completely consumed ten large tanks containing around 300,000 barrels. Even at the discount Russia is forced to give when selling oil on the international market, that's over $19 million worth of product if this was all crude oil. Far more if much of it was refined products. The fire has since spread to at least seven more tanks in the same storage field, likely raising the total amount consumed to around half a million barrels. Another set of tanks is nearby, but the fire has not ignited this second cluster. Yet. 
According to Russian sources, the fire was triggered by a wave of Chinese-made Mugin-5 drones, which cost $9,500 each and are capable of flying over 800 km. Those sources say that Ukraine launched three groups of these drones from an area near Odesa, with some being brought down by electronic warfare and one being shot down by air defense systems near a village deep inside Russia. However, there is no way to confirm the accuracy of any of the Russian reports and this information is definitely suspect (especially since the location of the drone reported shot down looks to be beyond even the longest cruising range of the Mugin-5).
If this was a Ukrainian drone attack, it followed closely on the heels of a Russian strike on an apartment building in the southwest Ukrainian city of Uman which resulted in at least 26 deaths, including the deaths of four children.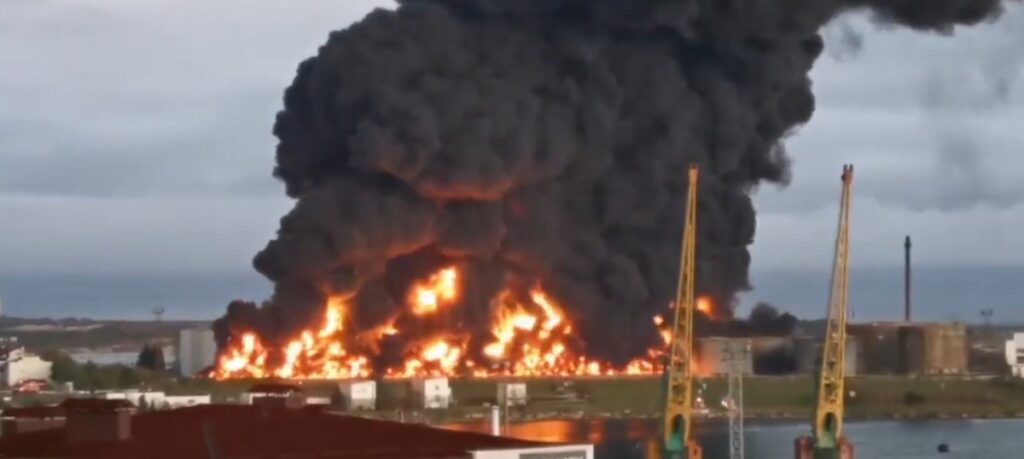 One thing is sure, fuel storage facilities burn … enthusiastically.
https://m.dailykos.com/stories/2023/4/29/2166549/-Ukraine-Update-Smoke-on-the-water-fire-in-the-sky
Comment: The videos look like catastrophic damage, but once the fire's out I doubt the damage will be as bad as it looks in those videos. A few things strike me though.
1) These are Chinese-made drones with obvious dual use application. Why is Russia's friend without limits allowing Ukraine to buy them in bulk? The same goes for all those DFI drones in use by Ukraine.
2) There is a stark contrast between Ukrainian and Russian target selection. Hitting a Sevastopol fuel tank farm is of far more tactical/strategic value than hitting apartment buildings in Uman. I will give the Russian targeteers the benefit of the doubt in saying that they wanted to hit Ukrainian military reserve concentrations, but it doesn't appear they hit any. Perhaps the missiles and drones shot down were heading for troop and equipment concentrations. In that case it would be a matter of ineptness rather than intentionally cruel criminality.
3) There are similar targets like this in the Sevastopol area. We'll have to wait to see if this is just a one off strike or part of a complete campaign. To truly be effective, these targets must be hit repeatedly and rapidly. Also, if I was sending those Mugin-5 drones on kamikazi missions, I'd modify them so that the landing gear would fall off after takeoff. Should be an easy modification.
TTG