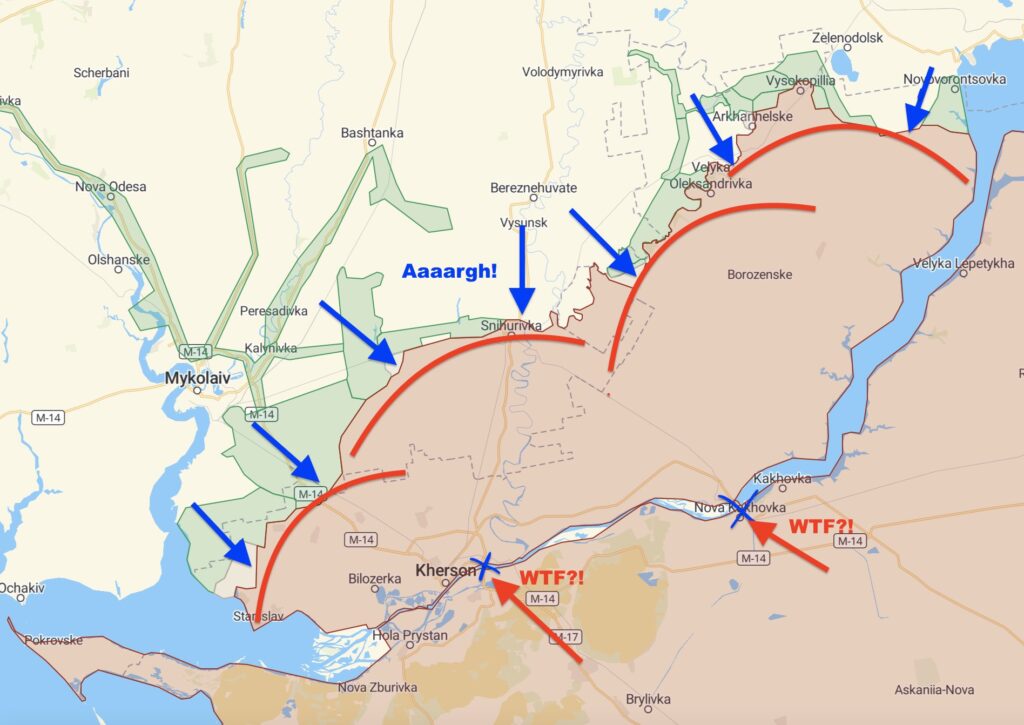 My hypothesis on what's Ukraine doing in Kherson region.
The Ukrainian military likely put a stake on gradually exhausting and embattling Russia's grouping on the Dnipro right bank — while also keeping it isolated from supplies and from across the river. So Ukrainian forces are likely probing Russian defenses all along the line, looking for weak spots, trying to advance and capitalize on their gains if possible. It certainly does not have enough manpower and hardware for a reckless, costly, Russian-style frontal attack that would guarantee nothing but a high Ukrainian death toll. So the command has to use their brains and do it in a more subtle way. 
I think this operation is not about territorial gains per se, but about grinding the Russian group of 20-25 BTGs down in hard combat until it just can't go on due to losses, and a total lack of supplies and fresh reinforcements. So I don't think it makes sense to expect any impressive territorial gains, let alone Ukraine retaking Kherson, any time soon.
In the next weeks, we'll be seeing heavy fighting and constant Ukrainian strikes upon Russian GLOCs and river crossings. Ukrainian need to always deny Russia of its ability to go on feeding its forces on the Dnipro right bank. That's a lot of work to do.
So yeah – it's way too early to tell if this operation was a success.
https://twitter.com/IAPonomarenko/status/1565677402130350081?cxt=HHwWgoCwranTs7orAAAA
Comment: So thinks Ilya Ponomarenko, military correspondent for the Kyiv Independent. He's not be a trained military practitioner, but he's been covering this stuff since 2014. He's also a Donbas native now living in Kyiv. His take sounds reasonable to me. Along the same line, Arestovich had this to say in his daily interview from yesterday.
Ukrainian tactics in the south: Arestovich says that the Kherson operation will go on for a long time because the Ukrainians are trying to avoid unnecessary losses of both military and civilians. Arestovich explains that in the army one must always use the strongest capability he possess. In some areas, the Russian army has a numerical superiority in terms of artillery and aviation. However, the Ukrainians posses better reconnaissance and long range accurate weaponry. All Ukrainian military operations are structured around the combined employment of these 2 capabilities. Therefore, Ukraine will play to their strengths and organise the offensive in such a way that it primarily employs these weapons that do not need to be in direct contact with the enemy. We should not expect a "Severodonetsk" style offensive from Ukraine where 9 brigades had to be pulled off the line for refitting after the battle.
https://wartranslated.com/day-191-september-2-summary-of-arestovych-and-feygin-daily-broadcast/
Comment: Ukraine has more than HIMARS and M777 guns. They are now capable of employing AGM-88 HARM missiles from their MiG-29s. Their Air Force is conducting sorties regularly now and the Bayraktars are again hitting targets. I've seen videos of units equipped with the Dutch YPR-765, an upgraded version of the M-113 APC. I've also seen standard M-113s from American stores in use. Poland handed over 240 of their PT-91 Twardy tanks, an upgraded version of the T-72. It doesn't look like the West has tired of supplying Ukraine with effective and often cutting edge equipment and ammunition yet.
This fact hasn't escaped notice in Moscow. Sergei Ryabkov whined/warned Washington of this yesterday. "We have repeatedly warned the US about the consequences that may follow if the US continues to flood Ukraine with weapons," Ryabkov said. "It effectively puts itself in a state close to what can be described as a party to the conflict."
Depending on how effective the Ukrainians are in reducing the ammo and food stockpiles already on hand with the Russian forces on the west bank of the Dnipro and interdicting Russian logistics at and beyond the river, this unconventional offensive could take weeks or even months. That shouldn't be very shocking. It took the Russians three months to take Severodonetsk. The Ukrainians are in this for the long haul and, as such, preservation of their forces is an important consideration. Still, offensive pressure must be kept up or this will turn into another frozen conflict. And that would be to Moscow's advantage.
TTG