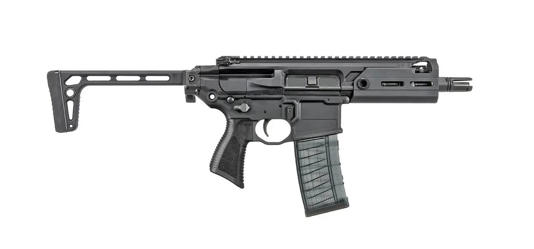 "U.S. Special Operations Command's (SOCOM) Special Operations Forces Acquisition, Technology, and Logistics (SOF AT&L) Center first issued the contracting notice regarding the 7.62x39mm conversion kits on October 28. SOCOM had announced in May that it planned to award Sig Sauer a contract to supply new Reduced Signature Assault Rifles (RSAR)/Personal Defense Weapons (PDW) and that deal was finalized in September.
"Currently, the RSAR/PDW system is chambered in both the 5.56 NATO and .300 Black Out calibers," the contracting notice says. "Due to developing requirements, USSOCOM is seeking 7.62x39mm upper receiver caliber conversion kits that are compatible with the SIG SAUER Rattler Lower Receiver."
At the time of writing, the SOF AT&L notice does not provide any specific details about the "development requirements" in question. The War Zone has reached out to SOCOM for more information.
Sig Sauer's RSAR/PDW for SOCOM is a modified version of the company's ultra-compact Rattler rifle. The Rattler is itself based on Sig Sauer's MCX rifle design, which is a derivative of the AR-15/M16 pattern that notably used a gas piston operating system versus a so-called direct impingement one that uses siphoned-off propellant gas from firing to directly cycle the main action. Since gas piston systems do not blow propellant gas, and the particulate matter it carries, into the inner action of the gun, they inherently require less cleaning and offer significant benefits when it comes to reliability as a result."
Comment: A adapter for Soviet 7.62 would be an excellent idea. You never know what you might come across. pl
Tiny 'Rattler' Rifles For U.S. Special Operators May Be Adapted To Fire Soviet Ammo (msn.com)