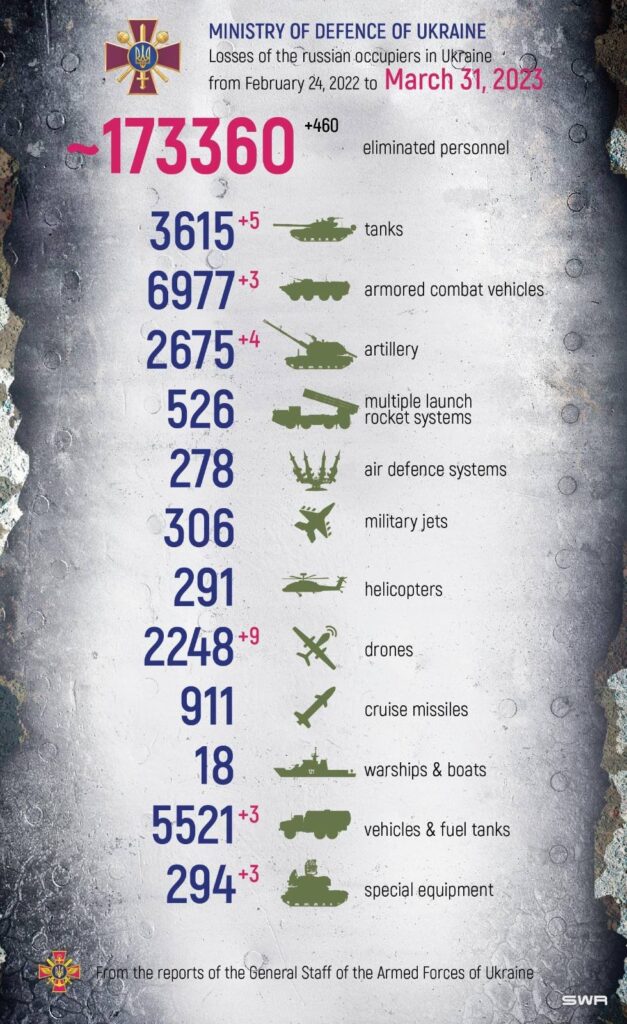 I've gotten a lot of push back on my last thread on Russian casualties about AFU casualty counts being horse shit. Lets talk about that in this thread. RUSI had reported every Ukrainian front line platoon in the war has a quadcopter drone working for it. At 5km of front per platoon and 2,500km of front, that is 500 DJI Mavic or better drones doing photo intelligence for the AFU daily. That is 1000 times the video intel density of any previous war. Again, the usual suspects will claim BS.
In this case, the usual suspects are the ones spewing BS. Radio Free Europe gave us an interview with a AFU drone team to give us an idea the kind and scale of photo intelligence that Ukraine is using as a basis of its Russian casualty counts.
https://www.rferl.org/a/ukraine-drone-pilots-modern-war-shoestring-budget/32108994.html
For instance, I don't know of any other military in the world using artificial intelligence with organic overhead photographic intelligence assets (quadcopters) to locate artillery targets at platoon level. And they are using it to conserve precious artillery ammo. Remember all those "Western analysts" claiming Ukraine was wasting artillery ammunition recently? Here is a Ukrainian tactics, techniques and procedures (TTP) reason to question the "Competent Intelligence Analyst Badge." IOW, "Sure, Jan."
Again, from the same http://rferl.org article: "This cycle of field work and analysis can be exhausting. "For a week we'll sleep just two hours," Lego said. "We'll fly till 7 p.m., then go to the base, and then analyze 3,500 photos from the flights."" We are talking about 3500 photos a day for a very small 5 km section of the Ukrainian front. For the scale of the AFU daily photo intel effort, now multiply that by 500 platoons across the whole front.  That is 1,750,000 photos of RuAF front line positions _EVERY DAY_
Photos that have first level analysis by artificial intelligence looking for square/man made objects, or day to day differences, to alert photo analysts to examine more closely. The 1.75 million photos a day are the photo intelligence grist for the Ukrainian GUR mill to grind out Russian battle damage assessment/casualties with. That granular level of photo intel detail is the grist for the GUR mill that grinds out well and exceedingly fine.
This AFU photo intel efforts is my TTP basis for trusting Ukrainian General Staff announcements of RuAF casualties. And remember, that http://rferl.org  article is from 22 Oct 2022? Five months is a lot of time to improve an AI. Just ask the Twitter ChatGPT mavens.
There are a lot of other implications that fall out from this AFU photo intel at retail levels. First the demolition of the delusions of superiority that many Western ground force officers have over AFU. When was the last time they went to a battalion level FTX and had nine quadcopter intelligence teams on their table of organization deliver 31,500 AI curated photos of the opposing force's field positions to them to support their operations? Ukraine's Army has been fighting that kind of war for the last five months, minimum. IOW, all the time the last five Russian casualty bars on the graph below.
I have a months old numerical Ukrainian photo intel TTP basis to trust AFU General Staff casualty numbers. What basis do the Ukrainian casualty number doubters have?
https://twitter.com/TrentTelenko/status/1640403149662961679
Comment: Trent Telenko's purpose in putting this thread together was to explain how the Ukrainian MOD comes up with their Russian casualty figures. He credits it to an unprecedented AI assisted aerial imagery effort that is updated on continuous basis. But this explanation does a lot more than prove a point about casualty numbers. This capability shows how far the Ukrainian Armed Forces have gone in the illusive pursuit of battlefield information dominance, the golden fleece of US doctrine. They're not there. They never will be. Nor will we or anyone else, but this is still one hell of a capability. It's a lesson to be learned by every military in the world.
This all begins with the widespread use of fairly cheap recon drones providing a networked and near constant view of the battlefield. It's certainly not the older, Soviet trained Ukrainian officer corps that put this together. Nor was it NATO trainers. It's the young Ukrainian techno-nerds who modify and often fly the drone fleet and write the coding to tie it all together. The kids are going to be okay.
TTG
This the original thread by Telenko on Russian casualty counts. https://threadreaderapp.com/thread/1640159311853678592.html