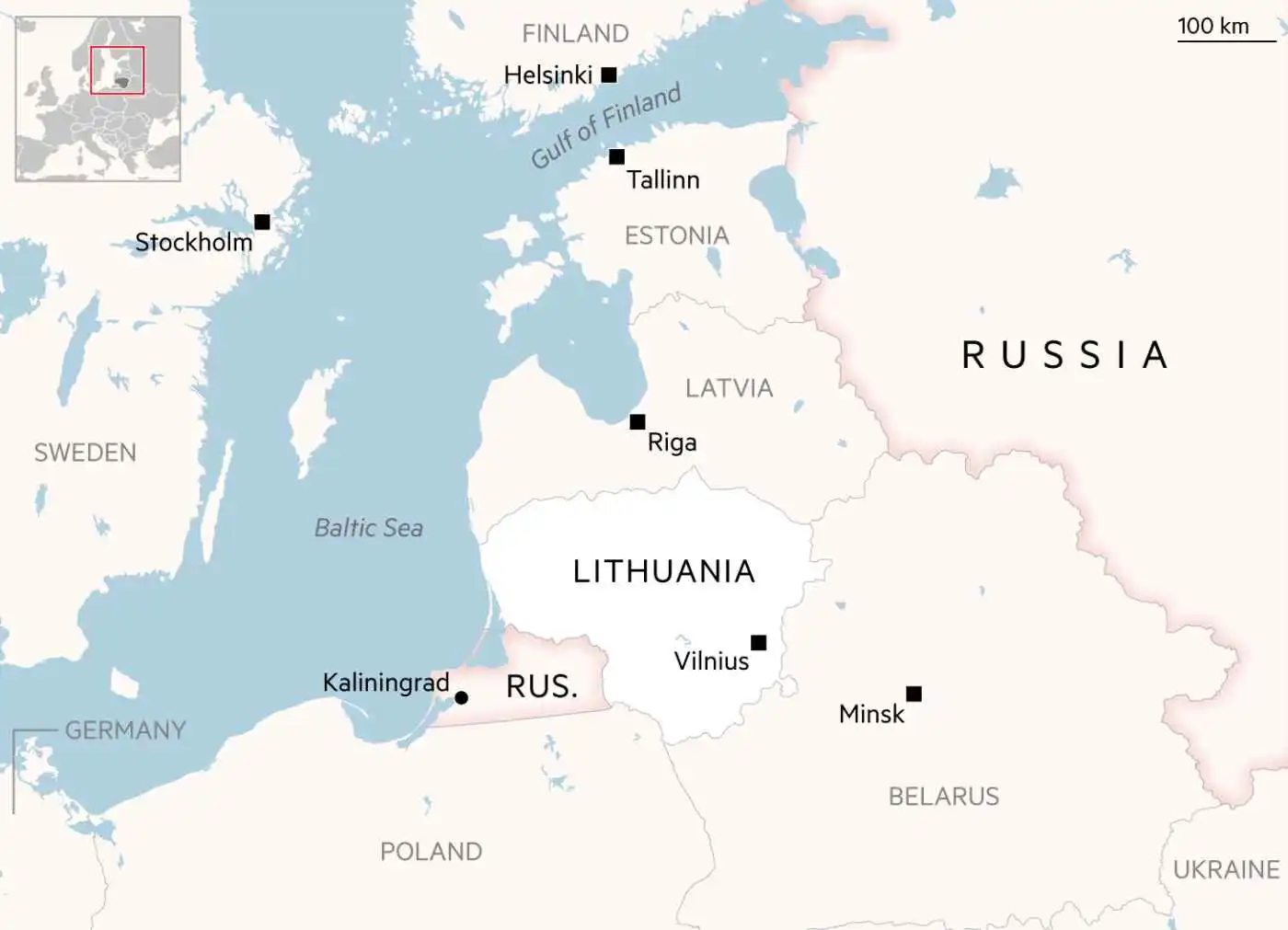 CNN – Tensions are mounting around the Russian exclave of Kaliningrad, an isolated but strategically significant territory on the Baltic coast that could soon be dragged into the Kremlin's war. Russia has reacted furiously after Lithuania banned the passage of sanctioned goods across its territory and into Kaliningrad. But Lithuania says it is merely upholding European Union sanctions, and the European bloc has backed it. The row now threatens to escalate strains between Moscow and the EU, which has unveiled several packages of sanctions on Russian goods.
What sparked this row? Since Russia invaded Ukraine in late February, experts have feared that Kaliningrad could become a flashpoint in tensions between Moscow and Europe. It is Russia's westernmost territory, and the only part of the country surrounded by EU states; Lithuania stands between it and Belarus, a Russian ally nation, while Poland borders it to the south.
On Monday, Kremlin spokesman Dmitry Peskov said the move was unprecedented and that Russia considered it illegal. "It is part of a blockade, of course," he said. Other Russian officials have threatened a response. Nikolai Patrushev, secretary of the Security Council of the Russian Federation, said, "Russia will certainly respond to such hostile actions. Measures are being worked out in an interdepartmental format and will be taken in the near future. Their consequences will have a serious negative impact on the Lithuanian population," according to Russia's RIA Novosti state-owned news agency.
The sanctioned products barred from being exported to Russian territory by the European Union include construction machinery, machine tools and other industrial equipment, according to Russian state news agency TASS, citing the Ministry for Economic Development. Some luxury goods are also included.
Lithuania has not imposed "unilateral, individual or additional" restrictions, its foreign ministry said in a statement on Monday. The Charge d'Affaires of Lithuania in Moscow was summoned to the Russian Foreign Ministry on Monday and told that if freight transit to the Kaliningrad region was not fully restored, Russia reserved the right to take actions to protect its national interests. But the EU, whose sanctions Lithuania is enforcing by blocking transit, has backed its member state.
Speaking to Reuters, Dmitry Lyskov, a representative of the regional government, was forced to urge residents not to panic buy in response to the spat. The sanctioned products will now have to travel by sea. A Lithuanian official, Rolandas Kacinskas, said Tuesday that "the transit of passengers and EU non-sanctioned goods to the Kaliningrad region through the territory of Lithuania continues uninterrupted. [Lithuania] hasn't imposed any unilateral, individual, or additional restrictions on the transit & is acting fully in accordance with EU law."
https://www.cnn.com/2022/06/21/europe/kaliningrad-explainer-russia-lithuania-sanctions-intl/index.html
Comment: The next flashpoint? I don't think so. No, this is just another problem for the Kremlin and and a rich source of further outrage and threats. What is Putin going to do? Move his depleted BTGs from Severodonetsk to invade Lithuania? Fat chance. Order Lukaschenko to invade a NATO country? Belorussian forces rebelled against orders to invade Ukraine. I doubt those Belorussian soldiers have any stomach for taking on Lithuanian, Polish and other NATO forces in an invasion. They will defend against a NATO invasion, but not attack NATO on their own.
Putin could launch missiles from land, sea and/or air towards Lithuania from his already depleted arsenal. That would be a hell of a way to test NATO air defenses. That move would stand no chance of breaking the sanctions, but it very likely would activate NATO air defense of western Ukraine at the least. It would most certainly initiate a hot war directly between Russia and NATO. Would NATO invade Russia? No, I doubt we would even attempt to invade Kaliningrad. Strike at activated A2/AD and missile systems? Sure. Belorussian forces that did not stand down could also be in for a world of hurt. At that point NATO would probably directly strike Russian forces in Ukraine. If Putin's goal was to initiate a full blown war with NATO with all the trimmings, he would do so at that time.
Now back to the flashpoint. Lithuania's actions are merely a further implementation of sanctions already approved by the EU and the NATO allies. She has taken other actions beyond this and beyond supplying weaponry and other supplies to Ukraine. She has declared Russia a terrorist state back on 10 May and accused Russia of war crimes and genocide. She has stopped the flow of all Russian oil, gas and electrical power. Lithuania neither wants nor needs anything from Russia. There is little Moscow can do to Vilnius beyond whine and threaten or initiate military action which would lead to NATO military action. At this point, I think we'll see little more than whining and threatening out of Moscow… until they get much more desperate.
TTG
https://www.ft.com/content/50631fd9-d5c6-4c97-890d-902ab36a57f1
https://www.railfreight.com/railfreight/2022/06/20/kaliningrad-stranded-after-lithuania-cuts-down-rail-cargo-transit/?gdpr=accept