"I think the problem that we've had is that people decided they didn't really want to work so much anymore through COVID and that has had a massive issue on productivity. Tradies have definitely pulled back on productivity. They have been paid a lot to do not too much in the last few years and we need to see that change. We need to see unemployment rise. Unemployment has to jump 40-50% in my view. We need to see pain in the economy. We need to remind people that they work for the employer, not the other way around. There's been a systematic change where employees feel the employer is extremely lucky to have them as opposed to the other way around. So it's a dynamic that has to change. We've got to kill that attitude and that has to come through hurting the economy, which is what the whole global – the world – is trying to do. The governments around the world are trying to increase unemployment to get that to some sort of normality and we're seeing it. I think every employer now is seeing it. I mean there is definitely massive layoffs going off. People may not be talking about it but people are definitely laying people off and we're starting to see less arrogance in the employment market and that has to continue because that will cascade across the cost balance "
Comment: Those are the words of Australian multi-millionaire Tim Gurner at a recent at a "Property Summit" on 12 September. Since then, he has been raked over the coals for his words. He even issued an apology of sorts a few days later. I bet he only did that because he feared his words may be bad for his bottom line. I will join the many who consider him a self-important, arrogant ass. Not surprisingly there were also many of the arrogant ass class who applauded his remarks. In my opinion it is this class of bloodsucking parasites who are making life miserable for many and are giving capitalism a bad name.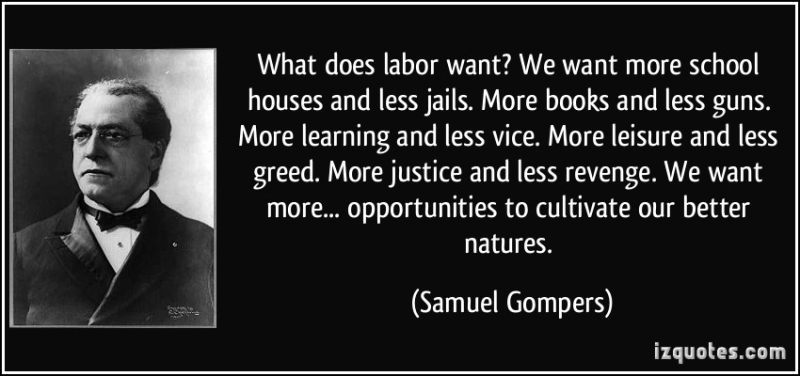 Five years ago I wrote about the pioneering American labor union leader Samuel Gompers. At that time I lamented about the disappearing labor unions. Today they seem to making somewhat of a comeback. In his life's work and in his writings, Gompers epitomized what is best about capitalism in a large society like America. I guess today he's be considered too woke for many.
TTG 
https://turcopolier.typepad.com/sic_semper_tyrannis/2018/09/for-some-reason-colonel-langs-recent-essay-reminded-me-of-the-plight-of-labor-unions-in-the-united-states-derided-tod.html