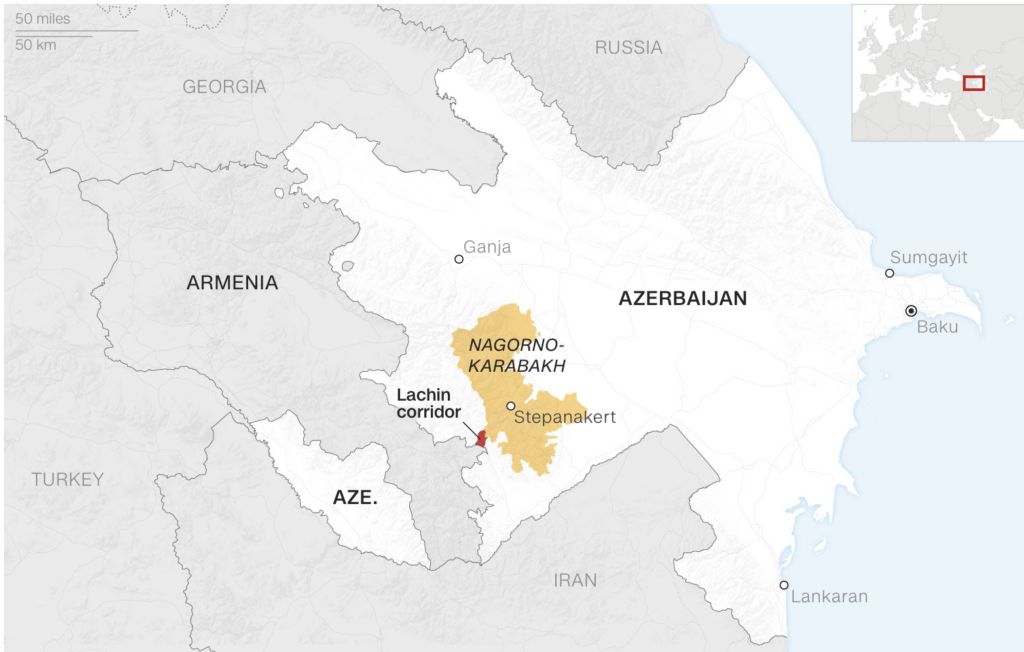 CNN — Ethnic Armenian fighters in Nagorno-Karabakh agreed to lay down their arms after Azerbaijan launched a brief but bloody military offensive on Tuesday, handing a boost to Azerbaijan as it seeks to bring the enclave under its control. Whether this leads to a lasting peace is not yet clear. Armenia and Azerbaijan have already fought two wars over Nagorno-Karabakh since the collapse of the Soviet Union.
The flare-up – which killed hundreds of people, according to local authorities – alarmed the international community and raised questions over Russia's ability to maintain its long-term role as power broker in the region.
Nagorno-Karabakh, known as Artsakh to Armenians, is a landlocked region in the Caucasus Mountains and lies within Azerbaijan's borders. It is internationally recognized as part of Azerbaijan but is home to around 120,000 ethnic Armenians, who make up the majority of its population and reject Azerbaijani rule. The region has its own de facto government which is backed by Armenia, but it is not officially recognized by Armenia or any other country.
Under the Soviet Union, of which Azerbaijan and Armenia are both former members, Nagorno-Karabakh became an autonomous region within the republic of Azerbaijan in 1923.
Continued at: https://www.cnn.com/2023/09/20/asia/azerbaijan-armenia-nagorno-karabakh-explainer-intl/index.html
Comment: Another unresolved conflict left over from the break up of the Soviet Union. There is no shortage of wrongs having been committed across the region. I remember my mother's admonition to finish what's on my plate because people are starving in Armenia. This dates back to the predations and massacres perpetrated on the Armenian people by the Ottomans. Nothing was ever solved under Soviet rule. In fact fighting broke out in 1988 as the Soviet Union weakened. Russia inherited the problems and did her best to keep a lid on the situation even during the 2020 war.
One explanation for the current situation is put forward by Thomas Theiner. "The main reason for the current Karabakh War is that the 2020 ceasefire was signed by Armenia, Azerbaijan and Russia. Armenia accepted its defeat and removed its military forces from Azerbaijani territory and returned the occupied areas outside Karabakh. But the Karabakh Armenians pretended they never lost the war and believed Putin would protect them no matter what insane positions they take. So instead of making peace the Karabakh Armenians demanded Azerbaijan hand over the formerly occupied areas, which the Karabakh Armenians had invaded and ethnically cleansed 100,000s, then pillaged and completely razed. The Karabakh Armenians refused ALL compromises and pretended they won the 2020 war, but Putin doesn't care about them. This whole mess is SOLELY the responsibility of Karabakh's delusional Armenians."
Surely there's more to this story. I did see one comment laying the blame on Stalin's penchant to move entire ethnic groups to different areas already occupied by another group. Neither group would ever find peace. I'm not sure who was moved where in this case. At any rate, Russia was in no position to expend any military or political energy to support Armenia much less the Artsakh Armenians this time. The Kremlin has advised Armenia to accept Azerbaijan's terms. This may very well lead to one of Russia's frozen conflicts finally being thawed. We'll see if it can be done without massive bloodshed, but yet another mass displacement seems to be in the cards.
TTG