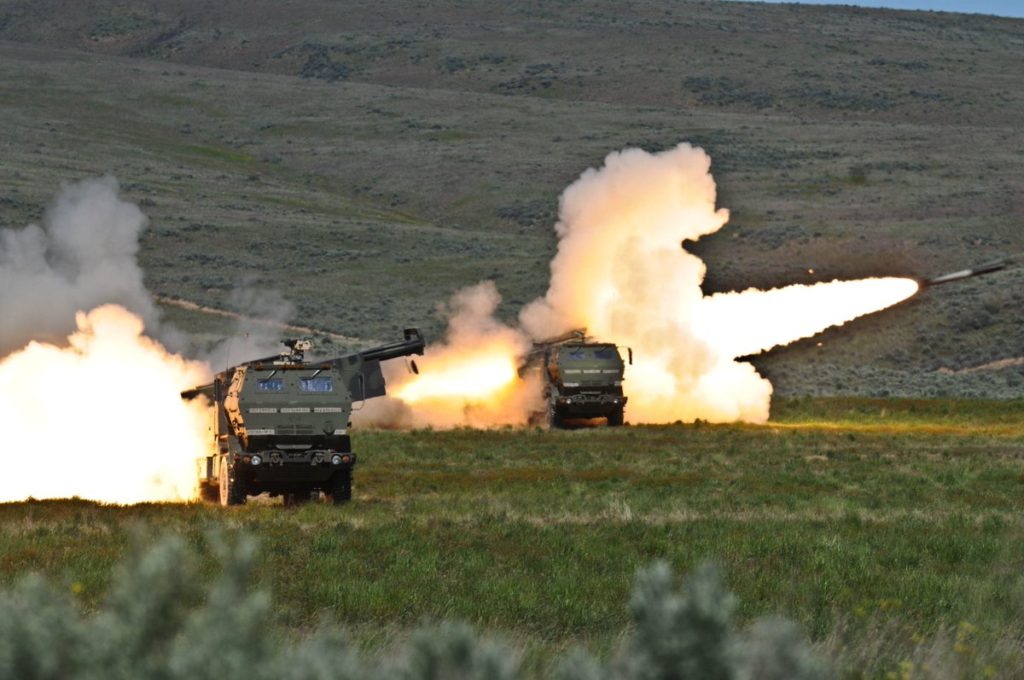 The US has two multiple launch rocket systems: M270 MLRS and M142 HIMARS. Both have a crew of three, both fire the same missiles, both do not need a Fire Direction Center to compute their missions. The M142 HIMARS exists in only one version. No updates so far – this version is called M142A0. The M270 MLRS exists in three versions:
• M270A0
• M270A1
• M270A2
The M270A0 can only fire the M26 series, M28 series training rockets, and M39 rocket. As of 2022 no country fields the M270A0. The M270A1 can fire all current missiles, but its processing power is too slow to fire the future PrSM missile. Therefore Lockheed Martin is currently overhauling and upgrading 160 stored M270A0 with new engines, transmissions, launcher-loader modules, and the new Common Fire Control System (CFCS) – this version will be known as M270A2. These 160 new M270A2 will equip the currently active ten US Army and US Army National Guard artillery battalions, which all use the M270A1.
When these 160 M270A2 have been delivered Lockheed will begin to overhaul and upgrade the existing fleet of 225 M270A1 launchers to the new M270A2 standard. Once the overhauled M270A1 leave the Lockheed facilities as M270A2 the Army will raise new artillery battalions and increase the number of launchers per battalion. All this means that Ukraine can only get either M142 or M270A1 launchers, because the M270A0 can't fire the GPS guided GMLRS missiles in the US inventory, while the M270A2 is the pinnacle of US military tech and its CFCS is top secret. This leaves the M270A1 as only possible M270 variant, and luckily Lockheed is right now delivering the first M270A2 to US Army artillery units, which are concurrently retiring their M270A1. As for the M142: more than 540 have been produced so far and the US Army and Marine inventory is around 450 systems, with approximately 335 in active units.
In short: the US could donate a lot of either system to Ukraine, as of both 100+ are available and as both systems can be replaced by the US defense industry. The main difference between the two systems is that the M142 carries only one missile pod. As pods contain the same 6x missiles (either 6x M30A1, 6x M31, or 6x M31A1) this somewhat limits an artillery commander's options… unless he has two M142 loaded with different missiles. The M270A1 carries two pods and so can fire unitary warheads (M31/M31A1) and alternative warhead (M30A1) rockets in the same fire mission. Both systems can fire a LOT more missions per hour than Russian systems. As mentioned in my earlier tweet it takes 20+ minutes to reload the Uragan and 40+ minutes to reload the Smerch. M142 and M270A1 reload time: 5 minutes.
Then the Russians have to measure and set up their firing positions, plot a fire mission with their outdated maps, sight their launchers optically (photo) – this and their slow reloading time mean that the Russians can fire one volley per hour at best. The M142 and M270A1 need 1 minute to stop, set up and fire their missiles: drone spots a Russian target – sends GPS coordinates to the M142 – gunner enters GPS coordinates into the UFCS – launches missiles – moves on. A M142 or M270A1 can fire 5-6 volleys per hour (!).
Not only are M142 and M270A1 faster to reload, quicker to fire, and massively more accurate than Russian rocket launchers – their missiles also fly further than Russian missiles. Officially GMLRS missiles have a range of 70 km… I can tell you that this is not true. Just how much further their real range is I cannot disclose, but the Russians are about to make painful discoveries soon.
We now know which launchers and missiles Ukraine will receive… now let's look at how these missiles will deliver a lot of hurt to the Russians. Let's look first at the Kherson front. I used @Nrg8000's brilliant maps for these: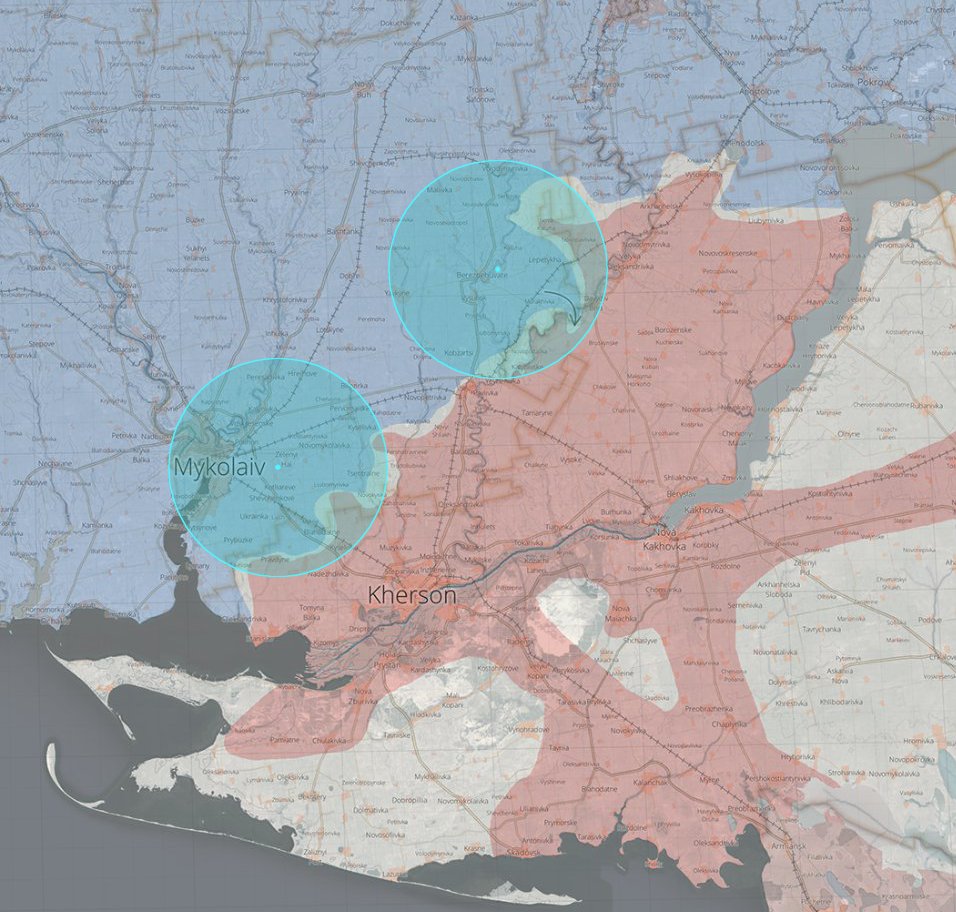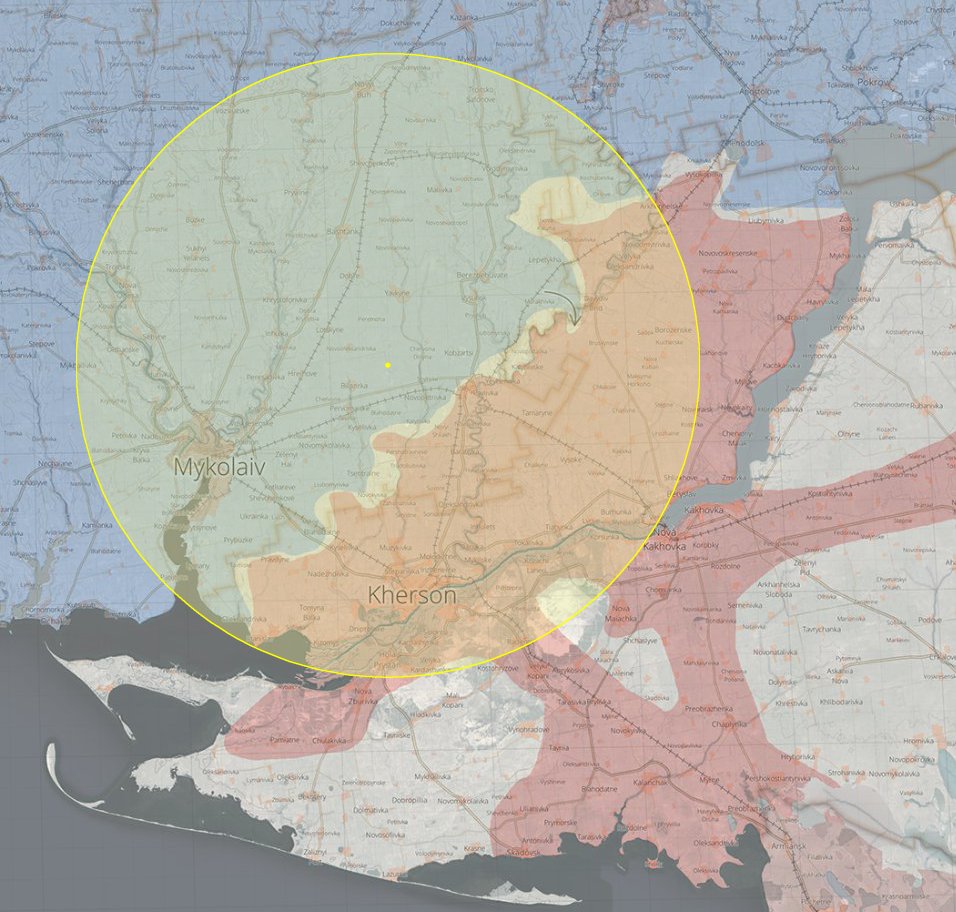 In the 1st image I added two blue circles with the range of M777 howitzers with M795 projectiles. In the 2nd image I added a yellow circle with the "official" range of a M31A1 rocket. Just one M142 or M270A1 can not only fire at almost every Russian position in Kherson Oblast, it can also hit the choke points of Russia's two supply lines:
• the Antonovskiy Bridge near Kherson and
• the Kakhovka Dam near Nova Kakhovka
Send up a drone:
• find Russian supply point – hit it with a M30A1
• find a Russian command post – hit it with a M31A1
• find a Russian battery – give it a taste of both
• find Russian infantry – one M30A1 will hit them with 160,000 scorching hot, Mach 3 fast shrapnels
Now let's look at Kharkiv. In blue the range of a M777 with M795 projectile, and in green the range of a self-propelled CAESAR howitzer. In yellow the "official" range of where a M270A1 or M142 can make the Russian's life hell. The entire Russian supply line using the railway from Vovchansk to Kupiansk is in range. The Russian supply point at Kupiansk, which supplies the Russian salient at Izyum is in range. And there is no need to worry about counter battery fire: M142 and M270A1 fire their missiles so quickly that whatever Russia fires in return will hit long after both vehicles are gone.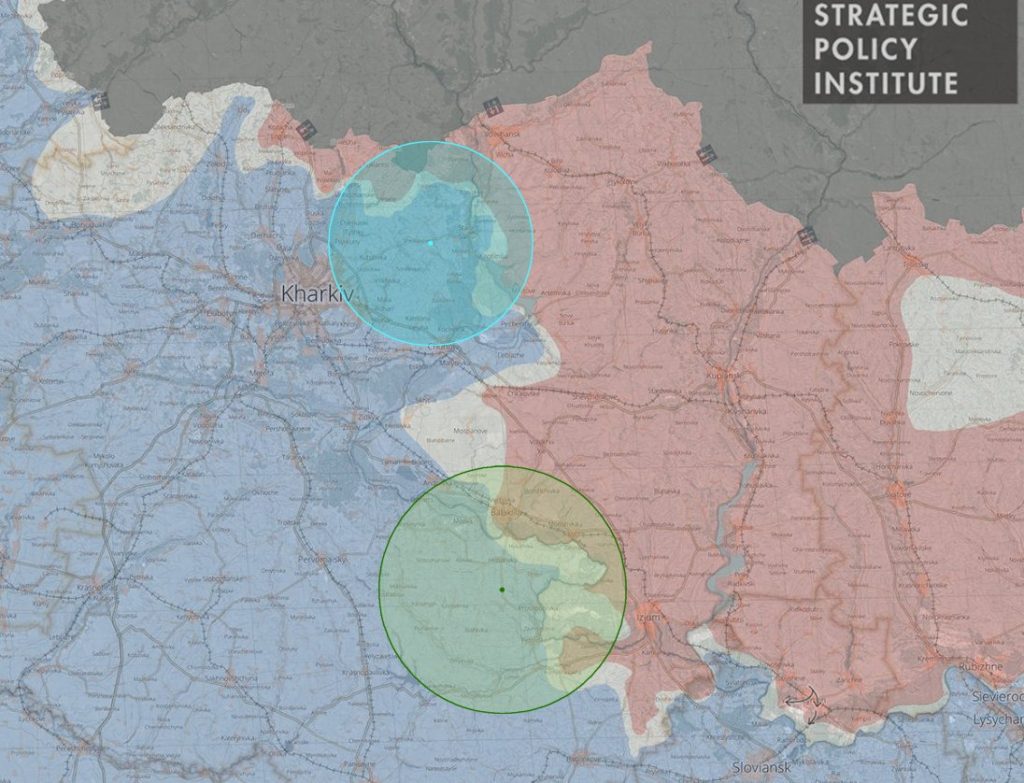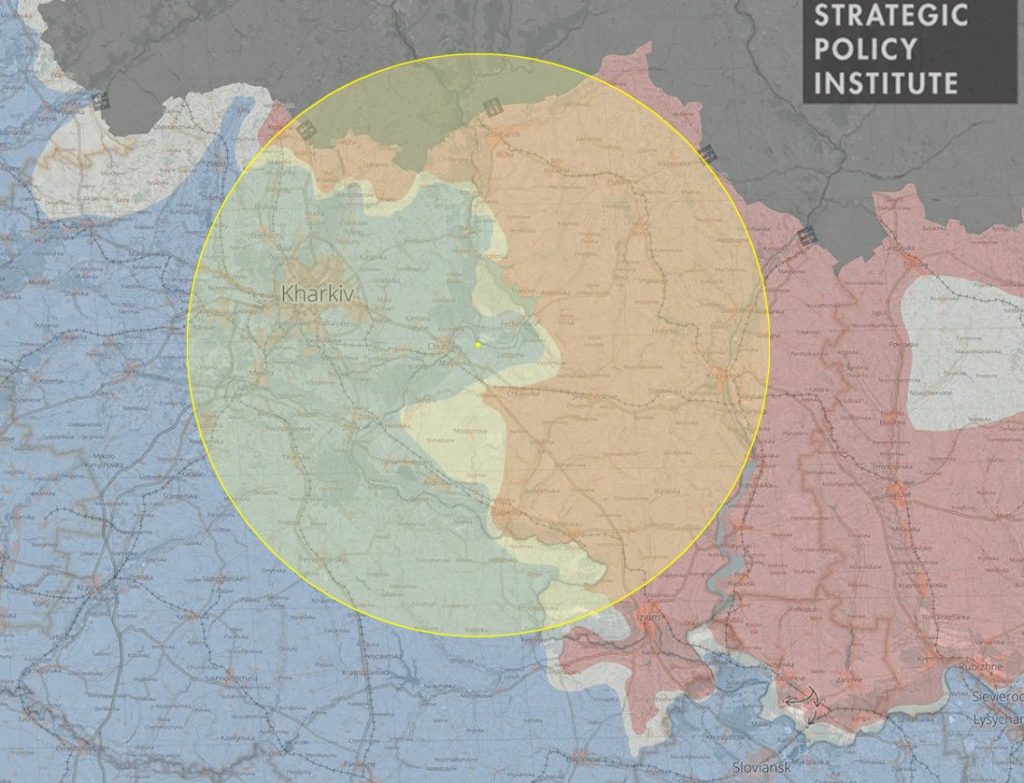 The M142 crew doesn't even have to get out of their vehicle to reload. The only risk to them are drones. So both vehicles need air defense close by. If a Russian battery or air defense system is spotted deep behind Russian lines – drive closer to the frontline, fire the missiles, move back out of Russian artillery range. Then reload and repeat. M270A1 and/or M142 are definitely going to change the dynamics of this war. Every Russian attack will get smitted, every Russian supply point will get destroyed. And we already know that Russia can't move further than 80-90 km supply points.
But Ukraine needs a lot of M270A1 or M142. As @nicholadrummond already said: 48x launchers is the minimum. Plus lots and lots of missiles, and drones to spot every Russian position. Send this to Ukraine NOW and we can wrap this war up before Ukraine's independence day.
Comment: This is the system Ukraine should soon be getting. Whether it's the tracked M270 or the wheeled M142 is immaterial. Why not both? As the author suggested, Ukraine needs lots of them now along with lots and lots of rockets. They don't need the ATACMS surface to surface missile with a stated range of 190 miles or the, yet to be fielded, precision strike missile with a range of over 300 miles. I believe this is what Biden was referring to when he said he will not supply Ukraine with long range rockets that can hit Russia. But either MLRS system will be capable of firing those two missiles. Poland is asking for 500 of these launchers. I'm sure that will cause a lot of hysterics in Moscow and will put a damper on Russian plans to denazify NATO. That Ukraine will have these systems in their post-war arsenal is certainly not what Moscow envisioned.
The author seems to know what he's talking about. Perhaps he worked with the MLRS while in the Italian Army. Anyways, it's pretty obvious where his sentiments lie.
"Thomas Theiner is a former member of the Italian Army, who has lived and worked in Kyiv since 2009. Theiner is an expert on NATO Cold War land forces and NATO Cold War defense strategy. A contributor to Euromaidan Press during Ukraine's Euromaidan revolution and the following Donbas war Theiner currently resides in Austria and works on Cold War documentaries. Theiner has been analyzing and reporting on open source intelligence and conflicts in the former Soviet Union since the Russian takeover of Crimea."
TTG
https://threadreaderapp.com/thread/1531012132975910912.html