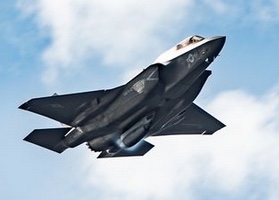 By Robert Willmann
You cannot make this stuff up. Cost estimates vary, but they all amount to millions and millions of dollars per airplane. Since (at least) Sunday, 17 September 2023, a Lockheed Martin F35 military jet is said to be missing after the pilot ejected over South Carolina. The plane kept flying. A report said there was a second plane flying with the one in question, and it later landed. If so, why did it not follow the wayward F35?
Forbes Magazine quotes Jeremy Huggins, a spokesperson for Joint Base Charleston, who said that the F35 "was left in autopilot mode when the pilot ejected", and also [1]:
"… [He told] the Washington Post on Monday that officials asked for the public's help because the jet's transponder, which helps locate the aircraft, was not working 'for some reason that we haven't yet determined'."
Wow! The only way to track the fancy jet is with a regular transponder, like a Cessna single propeller, piston engine training airplane. If that is true, then everyone at Lockheed Martin and in the Department of Defense who is involved in the F35 project needs to be told, "You're fired!" If not, then something else is going on. After all, Lockheed Martin says that: "The F35 is the most advanced node in 21st Century Warfare", and "Securely connecting high-tech platforms", and "seamlessly sharing information across every domain"….
Well, the plane is not seamlessly sharing information about where it might be, we are told. If they are that incompetent, then changes must be made. Otherwise, please don't bullsh*t a bullsh*tter.
https://www.lockheedmartin.com/en-us/products/f-35.html
[1] https://www.msn.com/en-us/news/other/everything-we-know-about-the-missing-f-35-fighter-jet/ar-AA1gUiJy