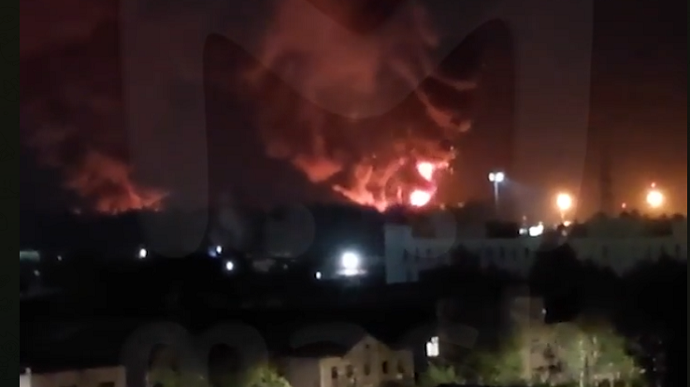 I was planning on posting something about this latest drone attack today after the hysterics and wild-assed rumors subsided a bit. The gist of a lot of the early commentary was that this attack had to come from Estonia and that it was the opening act of a full blown world war three. Our very own F&L picked up on this and posted several comments already this morning. Here's his latest from Anatoly Nesmiyan's and Markov's Telegram channels.
Two posts from Nesmiyan this morning. TTG will not like the implications of 12423 but he has to take into account Nesmiyan's extreme pessimism and 180 degree opposition to the RF administration who he thinks are cavemen who are simultaneously in denial and liars. I'll append one or two from Markov too who hedges, first saying that a look at the map suggests Estonia but follows up pointing out that Ukraine has drones with 850 km range. Links followed by pasted translation of texts.
——————————————————————
https://t.me/anatoly_nesmiyan/12423
UAVs attacked Pskov. Considering where Pskov is, where is Ukraine, and where is the Baltic States, which is part of NATO, then the dream of the patriots has obviously come true – now we are also in a state of attack from NATO. But the red lines, as you know, are for internal use, in fact they are liquid brown. Therefore, the drones are Ukrainian, there was no NATO attack, and those who doubt will be rolled up for life for discrediting.
https://t.me/anatoly_nesmiyan/12424
At night, the most massive drone attack of all time took place on six regions of Russia at once, and attacks on the Pskov region were delivered either from the territory of one of the Baltic countries, or from the territory of Russia itself. The effectiveness of the attack is obvious – the cost of damaged (or completely destroyed) military transport aircraft, fuel and airfield infrastructure is orders of magnitude greater than the cost of the drones involved. So the economy of this attack was all right. It probably makes no sense to say once again that by getting involved in the wildest foreign policy adventure with unclear goals, the Russian leadership most decisively brought down the security of the entire European territory of Russia. Considering that the same leadership carefully and lovingly destroyed a lot of things related to the country's military security, the result could not have been different. Ukraine meanwhile announced the annual production of military drones in the amount of at least 200 thousand units. With the prospects of increasing output. This means that in the future attacks on targets in Russia will be more frequent, larger and more destructive. The game called the fight against terrorism can be played with two people, especially if the fate is that each side calls the other side a terrorist. The Kremlin has no chance of winning in such a game. Kiev, too, but the task of Kyiv is not to win, but to deplete Russia as much as possible. And this is exactly what he can do.
———————————-
https://t.me/logikamarkova/8041
1-APU baring its teeth? 15 drones hit a military airfield in the Pskov region. It is most likely that these are drones of the Beaver of the Armed Forces of Ukraine, with a range of 850 km. From the border of Ukraine to Pskov, a little more than 600 km. That is, they could. Of course, the intelligence of the United States and Britain led these drones, and thus they are actively involved in the war.
Such a massive attack at such a great depth means that the majority of the Russian population is in the zone of destruction of the Armed Forces of Ukraine.
2-Estonia gave its territory to the Armed Forces of Ukraine for an attack on the airfield in Pskov? Many people have this suspicion. But the tactical and technical characteristics of the UAVs of the Armed Forces of Ukraine say that they could strike from the territory of Ukraine.
But it is right to warn the Estonian government that if its territory is used for military operations against Russia, then Russia will be forced to strike at the territory of Estonia. Well, so that such thoughts are scrolled well in my head and thrown out
Comment: I think attributing this attack to Estonia or Estonian based Ukrainians is a little far fetched. Estonia knows her vulnerability to a retaliatory mass missile strike from Russia. Her ability to defend against such missile attacks consist of a number of old ZSU-23-2 AA guns and Mistral MANPADS. That's if she didn't already send them to Ukraine. Both NATO and the US defense establishment would drop a deuce if such an attack was launched from Estonian territory. We won't even give Ukraine ATACMS for fear of either pissing Putin off or collapsing his regime. I'm not sure which scenario we fear more.
As Markov points out, NATO intelligence assets and communication assets probably assisted in this strike as well as the simultaneous strikes against other Russian targets including a fuel depot in Kaluga and a microelectronics factory somewhere in the Bryansk Oblast. BTW, if I was in Kyrylo Budanov's shoes, I'd be conducting a concerted campaign against every possible microelectronics factory and storage facility that could be identified. As it is, Ukraine, with NATO help, is implementing multi domain operations (MDO) in her fight against the Russian invaders. Given that the Spring/Summer and probably Fall counteroffensive is not moving near as fast as the West was hoping for, we can take solace in that this MDO strategy is proceeding. We were anticipating a long, fairly low level UW conflict, but we got a long, men and material grinding conventional war… not what anybody expected.
TTG
https://www.reuters.com/world/europe/ukrainian-drones-attack-russian-air-base-near-estonia-2023-08-30/