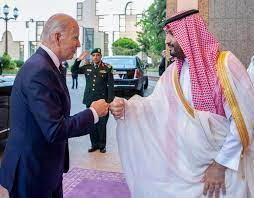 Well, President Joe Biden has just gotten another kick in the teeth from our loyal friends in Saudi Arabia. This week a group within the OPEC+ revived petroleum cartel announced that they would be cutting production quotas by over 1.1 million barrels per day for the remainder of 2023. So much for the Treasury/Fed efforts to "fight inflation" while throwing the US regional banking system into turmoil. Goldman Sachs immediately revised their estimates of oil prices this year back over $100 a barrel for the duration–and that is assuming there is no new Gulf crisis or other disruption.

Russian President Putin is one of the beneficiaries of this new quota. Russia has already cut their output by over 500,000 barrels per day, but higher prices will make up for some of that loss of revenue. According to the International Energy Agency monthly report for March, a higher percentage of exported oil is at sea without identified destination, which probably means that Russian and other oil is being traded on the spot markets by Asian buyers (China, India in particular) who are rerouting it to Europe and other locations that took a self-imposed hit by cutting off direct purchases of Russian oil. The amount of oil diversion is hard to estimate, but some of the steep discounted Russian oil that China and India have been buying up is being sold at full market price and a handsome profit.

The OPEC+ move will prompt China's President Xi Jinping to drive an even tougher bargain with the Kremlin over discounted oil and gas deliveries and the investment China will make into the Power of Siberia 2 gas pipeline. It was notable at the recent Putin-Xi summit in Moscow that when Putin announced the Power of Siberia 2 deal was completed, Xi Jinping did not concur, and the official communique only said that plans "were progressing." Deputy Premier and energy boss Alexander Novak commented days later that Russia hoped the Power of Siberia 2 deal might be finalized by year end.

The China-brokered deal between Saudi Arabia and Iran is moving forward and could even lead to a revival of the negotiations around the JCPOA (reports today are that a partial lifting of sanctions is being considered by the Biden Administration in return for some reduction in Iran's nuclear program). But the Biden Administration will get little or no credit for whatever transpires around any possible revived JCPOA talks.
In yet another sign of changing dynamics in the Middle East, the Prime Minister of Iraq Mohammed Shia al-Sudani told Al Jazeera in an interview today that there is no longer any need for U.S. troops to remain in Iraq, as ISIS has been driven out of the country. He wants training and other security assistance, but no American boots outside the embassy compound.
The U.S. still maintains a strong military presence in the Persian Gulf, but the Biden Administration has clearly dropped the diplomatic ball or so badly bungled diplomacy with the Sunni Arab world that both China and Russia have skated into the vacuum. China is the number one destination for Saudi oil, and the recent Beijing diplomacy has deepened the ties beyond energy economics. Russia, with all the mess on Putin's hands with the failed war in Ukraine, has deepened ties with Iran's Islamic Revolutionary Guard Corps, and under the Russia-Iran latest strategic partnership agreements, Russia has a veto over where Iran's Caspian Sea gas gets delivered–meaning not to Europe.
Even the "only democracy in the Middle East" (sic)–Israel–has balked at supporting Ukraine with any level of military assistance, despite persistent Biden Administration pressure. Netanyahu is sensitive to the more than a million Russian citizens of Israel, who form a part of his fragile political base. And he is more concerned about maintaining his deconfliction arrangements with the Russian military in Syria to prevent Iran from establishing an even stronger beachhead on Israel's northern border. Recall that a few years back, Israel and China signed a 25-year contract giving a Chinese State-Owned Enterprise control over the new Haifa port.