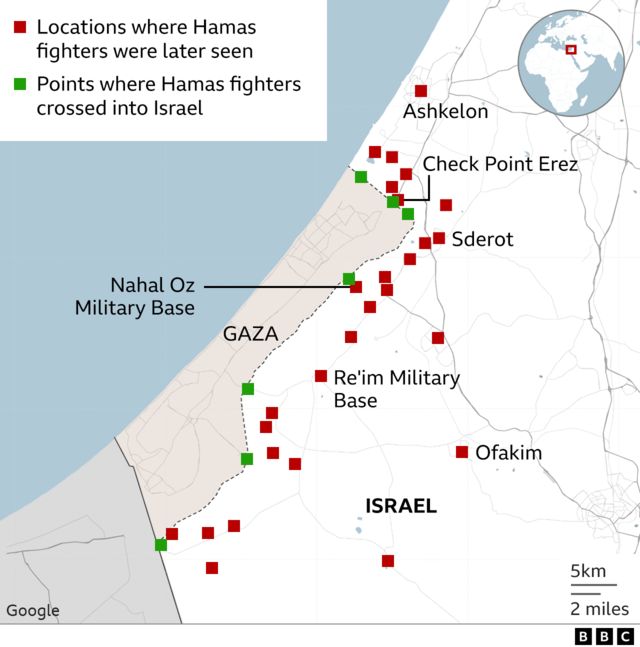 The Operation began with what could be described as 'primitive SEAD' (Suppression of Enemy Air Defences). As first, the Qassam Brigades assaulted and overrun the IDF base protecting the Erez checkpoint, north of Bayt Hanun (northern Gaza Strip). That's one of major crossings from the Gaza Strip to Israel and the other way around. Not sure about all the details, but from there the Qassam Brigades rushed to an Iron Dome surface-to-air missile (SAM) -site of the Israeli Air-Space Force (IASF), somewhere in the Sderot area (yes, the IDF is constructing its military bases next to municipalities, just like everybody else): this was quickly overrun, thus creating a gap in the Israeli air defences around the Gaza Strip. That's why 'primitive SEAD'.
As soon as the 'way was free', a barrage of at least 500 rockets was unleashed, targeting all of Israel from the Sderot and Beersheba area up to Tel Aviv and Jerusalem. As far as I can assess, and 'usually', the barrage caused significant damage on numerous homes, and other kind of private property. Air traffic at the Lod/Ben Gurion International Airport was interrupted for hours.
But, and foremost… simultaneously with attack on Erez, the Qassam Brigades attacked the IDF base in Nahal Oz (is another crossing, closed since 2010). Through a combination of ATGM-strikes, drone-strikes, and quick special forces assaults, the militants destroyed and/or captured four Merkava Mk.IV main battle tanks, one or two heavy infantry fighting vehicles, at least three M113 armoured personnel carriers, and killed or captured up to 20 IDF troops.
The fence was breached in at least two or three additional spots, but I'm not yet sure where. It seems the IDF base at Keren Shalom (southernmost crossing from the Gaza Strip to Israel) was attacked. This is where the Qassam Brigades claims to have overrun a base of the Nahal Brigade and – between others – killed its commander, Lieutenant-Colonel Yonatan Steinberg. Found no other details on the fighting there, but: Hamas subsequently reported the capture of General Nimrod Aloni, the 'Gaza Division Commander' (see photo below), which would indicate they've overrun at least a part of the local IDF headquarters.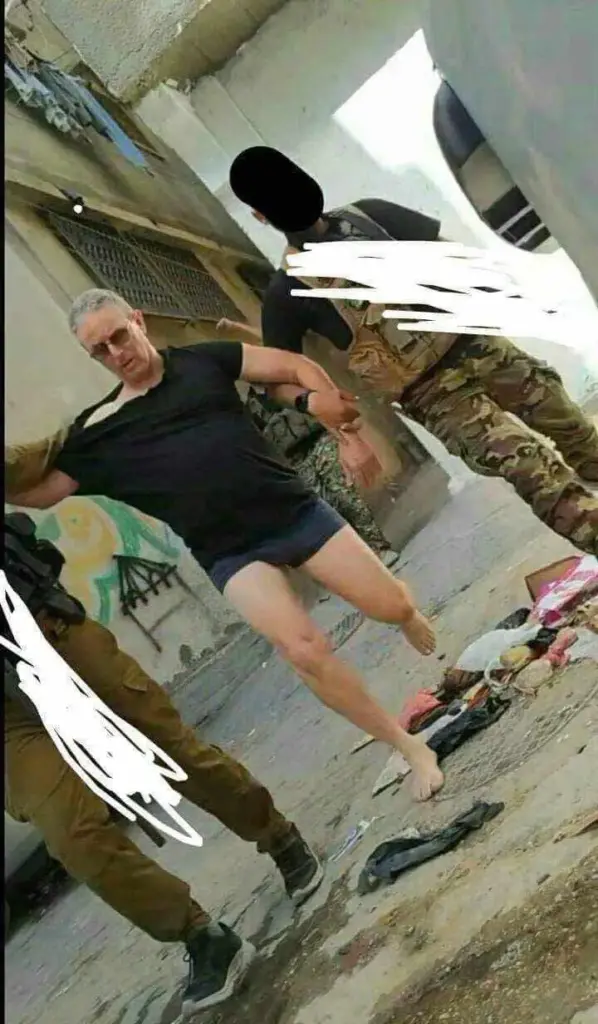 At this point, I'm 'switching' from 'militant' to 'terrorist' because for me, anybody intentionally/knowingly attacking and/or endangering civilians – no matter if member of official or unofficial armed formations, or 'just some civilian volunteer' – is a terrorist.
Reason: having created at least two, possibly three or four breaches, the Qassam Brigades began rushing reinforcements into Israel. Each of terrorists involved received a pamphlet enticing him to move into Israel and continue attacking civilians and soldiers alike until either killed or captured.
Exact figure for their number remains unclear: most of Israeli sources are talking about 'around 300'. Most were mounted on motorcycles, but some used pick-ups loaded with heavy machine guns, few MANPADs, and lots of ammunition, too.
Fanning out of the Gaza Strip, the terrorists shot up numerous civilian cars, killing their occupants – sometimes while clashing with the IDF. This video is showing at least five civilian cars (the complete version is showing also some 5-6 dead civilians), in front of an Israeli Merkava main battle tank (visible in the background and apparently abandoned).
In the north, a group of terrorists entered the Netiv Ha'Atzra settlement. AFAIK, once that group was defeated by the IDF and the police, 15 bodies of murdered civilians were discovered in their homes. I'm not sure if any have ranged all the way out to Kiryat Gat, but there are reports that the terrorists have killed the commander of the fire brigade of that place, and one of his firemen, too.
Further south-east, another group entered Sderot and – except for ransacking a number of private homes and murdering their owners– captured the local police station. As of this morning, the IDF was still busy mopping-up the town, and storming the station with support of a bulldozer.
Further south, down the fence around the Gaza, the terrorists are known to have infiltrated Mefalsim, Kfar Aza, Sa'ad, Alumim, Zimrat, Kfar Maimon and to have entered northern and western side of Netivot.
One group of terrorists attacked the Festival for Peace set up in Kibbutz Re'im, several kilometres west/south-west of Netivot. The militants opened fire killing dozens of men, while taking an (unknown, at least to me) number of women away. This is where videos were taken showing hundreds running away.
Further south, the terrorists infiltrated Kisufim, Ein HasSholasha, Nirim, Nir Oz, Magen, Ein HaBsor, Urim, Patish – and to have reached….well, from what I know, they were stopped somewhere on the western side of the perimeter of the huge Hatzerim Air Base, south of Ofakim. As usually, the Israelis would only say they have infiltrated the western side of Ofakim.
https://xxtomcooperxx.substack.com/p/israelpalestine-8-october-2023
Comment: Tom Cooper here put together the first overview of how this assault was conducted last Saturday morning. There's more to his article, but I think this is the interesting part. Read this with the translations from Russian Telegram channels provided by F&L yesterday (October 8, 2023 at 7:56 pm) concerning the role played by Iranian advisors, probably Quds Force teams in training and directing the Qassam Brigade assault force.
The initial strike at the Iron Dome SAM site near Sderot was a brilliant maneuver. As Tom Cooper says, it was a SEAD operation that cleared the way for the mass missile strike. Some serious planning went into that. Seems the entire assault force consisted of only 300 strong, a reinforced rifle company. And that was spread across the entire width of the assault front. I'm surprised they penetrated as far as they did. In a lot of cases encounters with IDF personnel ended up with the Israelis abandoning positions and armored vehicles. There's one video of a Merkava IV with Trophy APS being struck by a Tandem-85 RPG. Although it's not clear the RPG penetrated the armor or even disabled the tank, it is clear that the Trophy APS didn't stop the attack. It's also not clear if this Merkava was abandoned, but it sure didn't stop the RPG team from continuing their advance. It doesn't appear that the IDF forces in contacts were willing to die protecting the Israeli civilians they were supposed to protect. They were left to be slaughtered and kidnapped. A truly shameful day for the IDF.
TTG