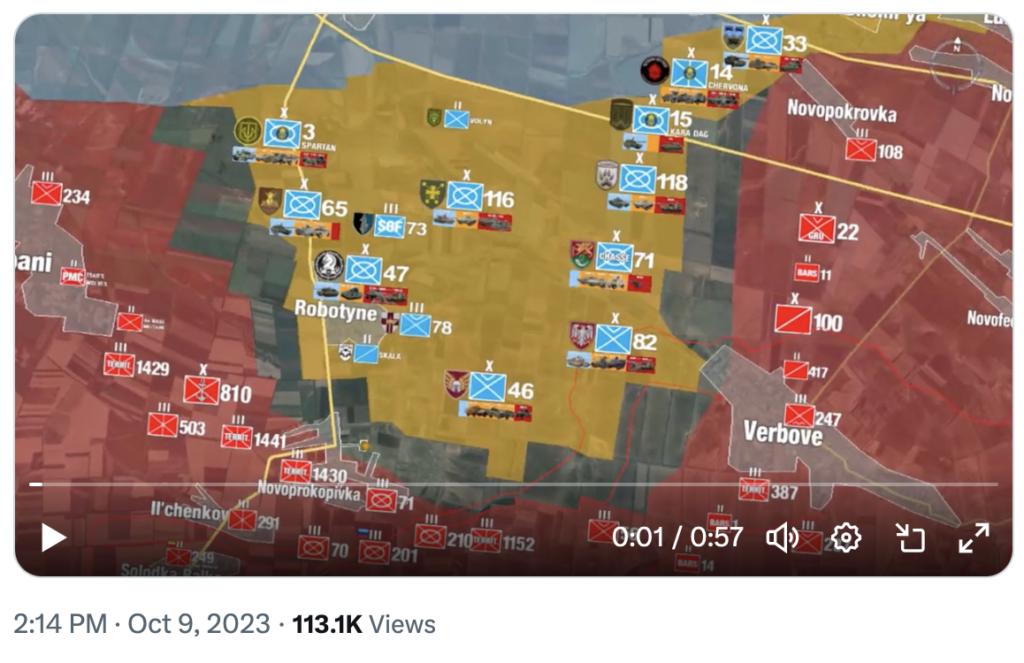 ON THE ZAPORIZHIA FRONT | See the meticulous animation of @Stevius21 which shows the repositioning of the Armed Forces of Ukraine on the axis between Novoprokopivka and Verbove, overtaken by Robotyne
The Ukrainians have reorganized part of their system in the Robotyne sector. The 116th Bde is now on the front line and relieves the 46th Air Assault Bde which can concentrate on Novoprokopivka. The 117th Bde replaces it in the reserve role. The 82nd Airmobile Bde repositions north of Verbove.
[question] Do you also know if it is true that only one third of the Ukrainian troops dedicated to the counter-offensive are engaged? Because on your map, I see much more than 3 brigades, but we were talking about barely more than 10 brigades for this task.
[answer] A lot of things have changed since then, we must not forget the Novosilka sector where many brigades are engaged. There are still reserves left: the 117th, 60th and 61st Bdes to which must be added most of the armored divisions remaining behind.
https://twitter.com/Stevius21/status/1711445160008065027
Comment: Just found this French language Twitter account. This guy Stevius21 is doing a bang up job of mapping the order of battle in the Zaporizhian front. Not only does he plot the units deployed, but he also charts the major equipment of each unit. By descending through his timeline, you can see how the deployments changes since the beginning of the counteroffensive. There are also charts showing the units and their equipment. It's a remarkable effort.
Some units, like the Scala Battalion has been at the front since the beginning. A year ago, this unit was one of the first to enter Izium. It spent the Winter and Spring on the Bakhmut front. It's obviously taken casualties, but it has managed to stay combat effective over more than a year of being in hard action. Damned impressive considering this is not just a reconnaissance/drone reconnaissance unit. It is also an assault unit. The 3rd Assault Brigade still on the Bakhmut front has displayed a similar resiliency. One might say nigh indestructible.
Stevius21 also seems to have a handle on what units remain in reserve. Given the deployed units he mapped along with the reserve units he listed, it appears the Ukrainian Army has gained brigades since the Spring. At that time, there was talk of only being nine brigades available for the counteroffensive. They are not about to reach a culminating point, not advancing very fast, but far from reaching a culminating point. At this rate, they'll be still on the counteroffensive next Spring.
TTG