Veteran awarded Quilt of Valor for place in Marine Corps lore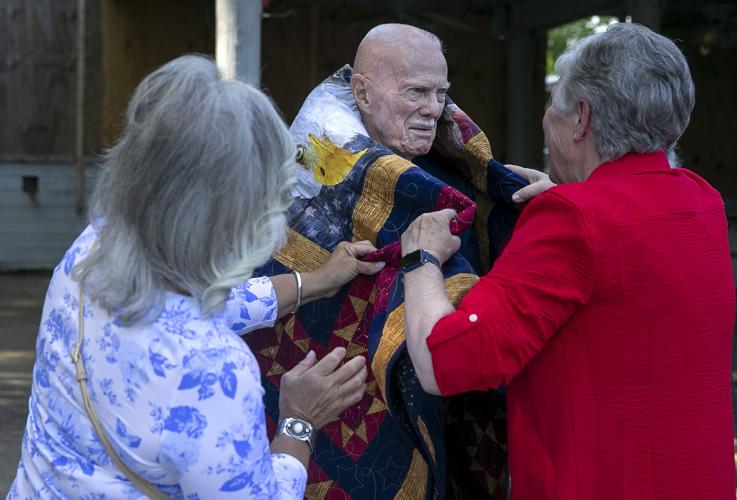 by Cathy Dyson – The Free Lance-Star
As thrilled as he was to be awarded a Quilt of Valor, Rick Spooner didn't feel entitled to any honors, believing his only achievement was getting old. "I don't consider being old the thing I'm most proud of," said the 96-year-old. "The thing I am most proud of is being a Marine. Everyone can be old if they live long enough, but not everyone can be a Marine."
Anyone who knows about Spooner's storied past probably recognizes the place the man known as "The Major" has in Marine Corps lore — and why he's a fitting quilt recipient. The Quilts of Valor Foundation has awarded more than 348,500 such blankets to service members and veterans with the goal of wrapping them in a healing and comforting embrace.
While the foundation honors veterans of various ranks, years of service and specialties, Spooner is a rarity, as he's served in three wars. "It's becoming more and more rare, that's for sure," said Ret. Marine Col. Walt Ford, whose wife, Sharon, made the quilt. "There's not many World War II veterans left, and then three-war Marines are very rare."
Then, after he finished his military service, Spooner started serving up Marine Corps history lessons along with steak and ale, at the well-known Globe & Laurel Restaurant, now in North Stafford. "He's a walking Marine Corps history himself," Ford said. Richard "Rick" Spooner was 17 when he joined the Marines in World War II, with his parents' permission. Less than a year later, he was among the 8,000 Marine infantrymen who landed on Saipan on June 15, 1944. He was captured by Japanese forces but managed to escape, then went on to participate in assaults on Tinian and the Battle of Okinawa.
Spooner also served during the Korean and Vietnam wars, and retired after 29 years. Even before he left the service, Spooner and his late wife, Gloria, operated the popular Globe & Laurel Restaurant. Initially in the town of Quantico, the business relocated to Triangle after a fire, and into Stafford County when the Triangle property was seized for the expansion of U.S. 1.
https://fredericksburg.com/news/local/veteran-awarded-quilt-of-valor-for-place-in-marine-corps-lore/article_65a7f9d4-06f1-11ee-b604-db8bdf12267a.html#tracking-source=home-top-story
Comment: Thank God for my local newspaper. This is today's lead story, page one, above the fold. In my opinion, that's as it should be. Just read the article and realize that somehow we will get through all this.
TTG