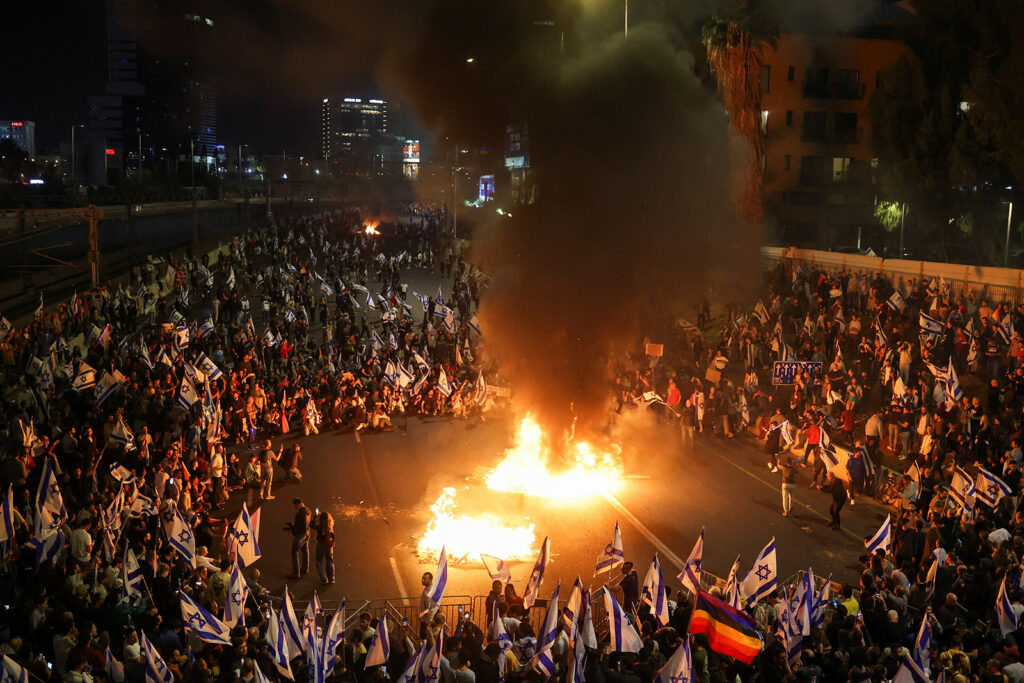 Massive crowds filled the streets of the Israeli city of Tel Aviv late Sunday night after Prime Minister Benjamin Netanyahu fired his defense minister over his opposition to a planned judicial overhaul. Israel has seen months-long protests over the planned judicial overhaul, which opponents say threaten the foundations of Israeli democracy. Here's what you need to know about Israel's deepening political crisis:
Mass protests: Waving Israeli flags and chanting "democratia," protesters blocked streets and bridges, including the main Ayalon Highway in Tel Aviv on Sunday. By the early hours protests had thinned out but live pictures from the scene showed security forces firing water cannons on protesters still gathered. Spontaneous protests also broke out in Jerusalem and other cities.
Defense minister fired: Protesters flooded the streets after Prime Minister Benjamin Netanyahu fired defense minister Yoav Gallant in a one-line statement. In a speech Saturday night, called for a pause to controversial plans to overhaul the country's court system, becoming the first member of the Cabinet to do so.
Other ministers speak out: Following Gallant's comments, three other Israeli government ministers — all members of Netanyahu's Likud party — suggested that the prime minister should stop the judicial overhaul legislation. They include Diaspora Affairs and Social Equality Minister Amichai Chikli, Culture and Sports Minister Miki Zohar and Economy Minister Nir Barkat, who warned the overhaul plan has brought the country to the brink of civil war. Meanwhile, Israel's Consul General in New York, Asaf Zamir, resigned in response to Netanyahu's decision to fire Gallant.
Universities to strike Monday: Universities in Israel will go on strike starting Monday, they announced, and the country's largest labor union and business leaders said they would hold a news conference on Monday morning. The labor union, Histadrut, said its press conference with business leaders scheduled for 11 a.m. (4 a.m. ET) would be dramatic.
Controversial judicial overhaul: For months, hundreds of thousands of Israelis have been taking to the streets across the country to protest far-reaching changes to Israel's legal system. Under the proposals, the government would have control over the appointment of judges, and parliament would gain the power to override Supreme Court decisions. The government argues the changes are essential to rein in the Supreme Court, which they see as insular, elitist, and no longer representative of the Israeli people. Opponents say the plans threaten the foundations of Israeli democracy.
https://www.cnn.com/middleeast/live-news/israel-protests-netanyahu-updates-03-27-23-intl/index.html
Comment: Bibi is running out of friends. I don't know how far he is willing to take this or how far the Israeli people are willing to take it. I haven't heard much out of DC on this, from Democrats or Republicans. I'm reminded of one of my father's sayings, "they don't know whether to sh!t or go blind."
TTG