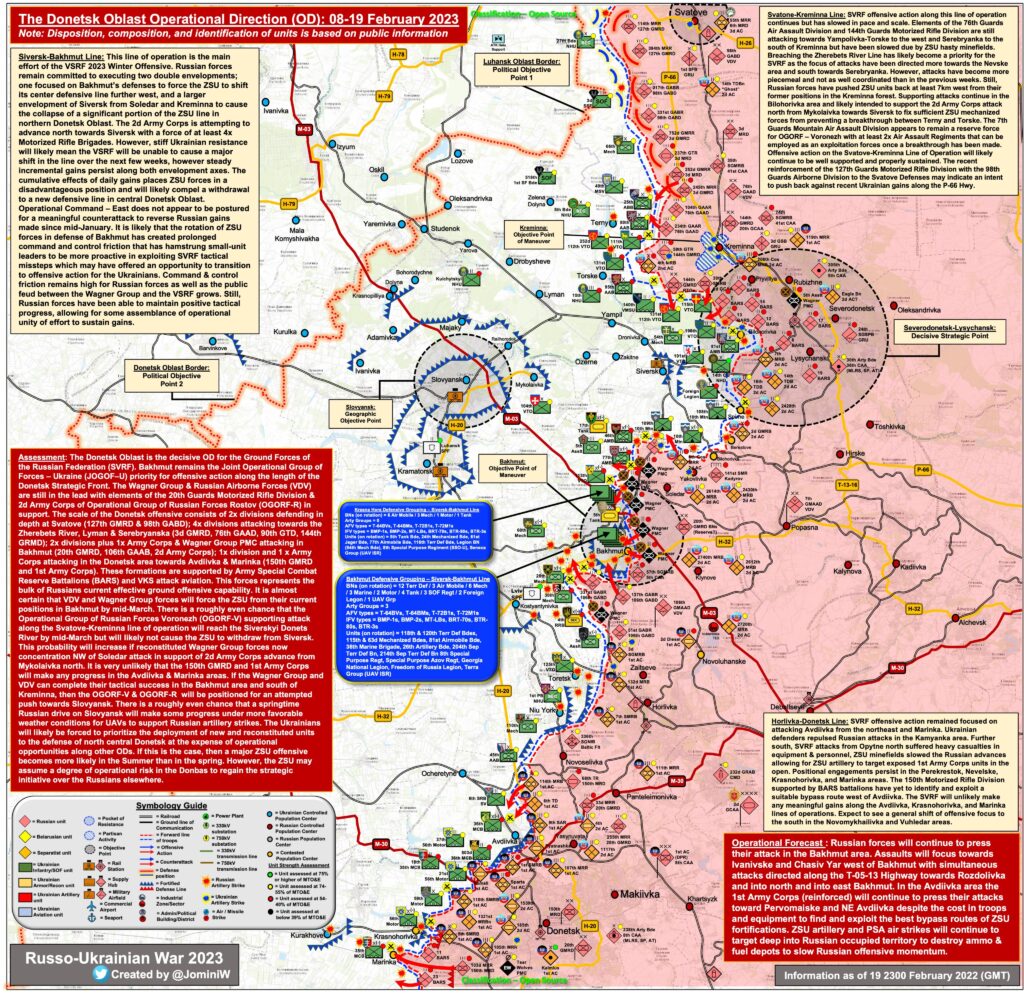 Ukraine TVD, 8-19 FEB 23. The past 2 weeks of February saw the Russian Winter Offensive intensify as major pushes continued in Kreminna, Bakhmut, and Vuhledar. Russian made few gains, Ukrainian defenses continue to hold.
Donetsk OD. Donetsk Oblast remains the decisive OD for Russian Ground Forces. If Russian Airborne & Wagner Group units can complete their steady progress in Bakhmut in the coming weeks it increases the likelihood of a 2d Army Corps supported attack towards Siversk.
Bakhmut AO. Bakhmut remains the most critical Objective Point of Maneuver in the Ukrainian TVD. With the fall of Krasna Hora & Paraskovilka & steady advances west from Blahodatne, Russian forces are positioned to force a general withdrawal from Bakhmut.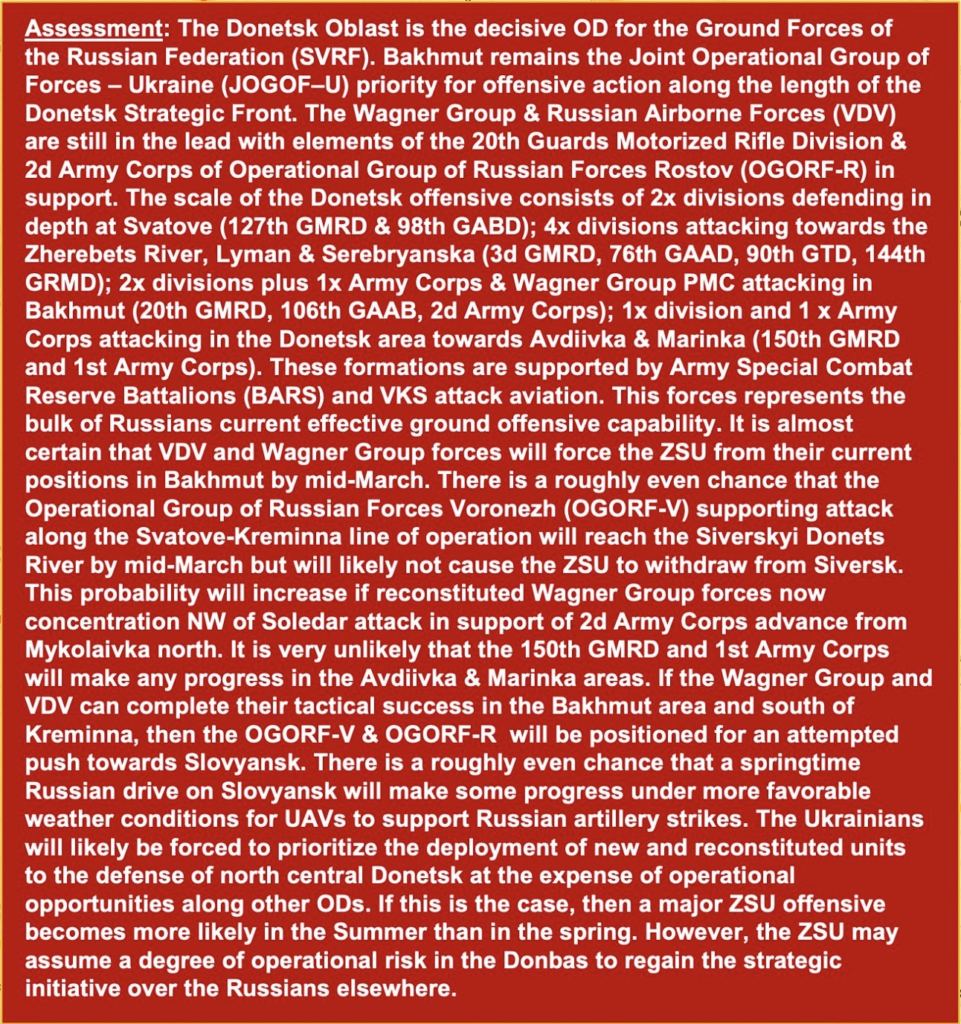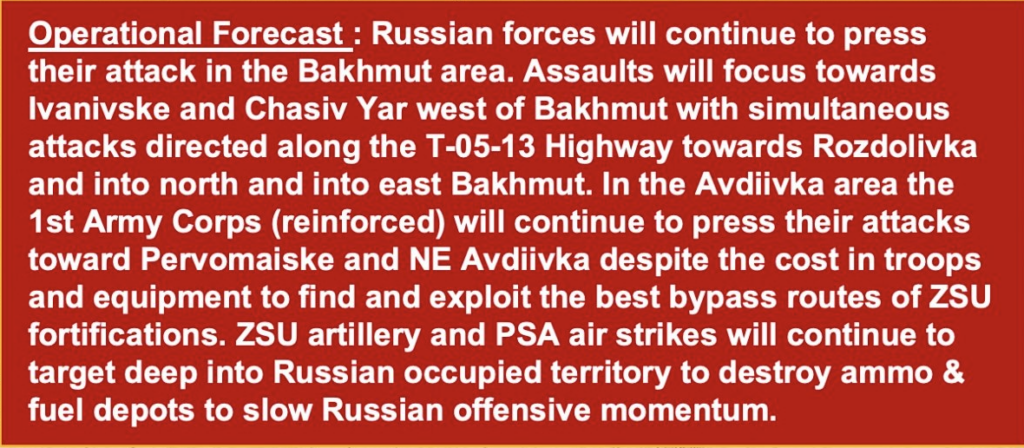 Comment: I don't know who this "Jomini of the West" guy is, but he puts out some good maps and even handed analysis of the war in Ukraine. He's also pretty liberal with the military jargon. His twitter account provides many more annotated maps which require expansion in order to read… at least for my aging eyes. I've expanded his assessment and operational forecast from this map for easier reading.
This map puts the ongoing battle for Bakhmut in its proper perspective. Contrary to what many are saying, the taking Bakhmut has value to Russia and makes operational sense. It would be a necessary step to taking on the truly strategic objective of taking the fortress of Slovyansk and Kramatorsk. That has been a Russian objective since last summer when they still held Izium and Lyman. The plan then was an attack south from Izium and north from Bakhmut or maybe even a wider envelopment of the heavily fortified Slovyansk/Kramatorsk area.
The battle for Bakhmut has been complicated by the intrigue between Prigozhin and the Kremlin generals. For months Prigozhin has beaten his Wagner PMC against the defenses of Bakhmut with massive losses for minor gains. His use of convict meat is reminiscent of scenes from World War Z. Prigozhin wanted Bakhmut real bad, but he recently admitted that it won't happen anytime soon. It could also be that the salt and gypsum mines appealed to his oligarchic side. That would be even sadder than his pissing contest with Gerasimov and Shoigu. Ukrainian forces have also suffered large losses, but they pale in comparison to Russian losses.
I agree with Jomini of the West's assessment that Bakhmut could very well fall despite the brave and defiant words of her defenders. The slow flanking of the city to the north and south could force the issue. The question is whether Ukraine will use some of their building reserves to reduce the Russian salients north and south of Bakhmut or be willing to withdraw from the city and preserve the reserves for a larger offensive this spring or summer.
TTG