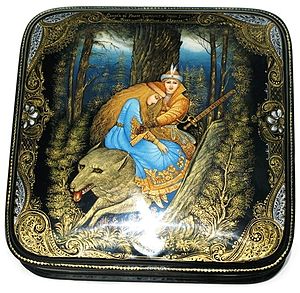 Russia's invasion of Ukraine is often referred to as Putin's war as if to absolve Russia and the Russian people of any complicity. I don't believe it. Russian public opinion and the Russian government seem to be firmly behind this war or special military operation. Opposition to Ukraine and all things Ukrainian is a deeply engrained aspect of Russian history and, apparently, Russian culture. This is a twitter thread by Sergej Sumlenny (@sumlenny), a Berlin-based Eastern Europe expert with 10+ years of work in Ukraine, Russia and Belarus and former director of the Heinrich-Böll-Stiftung's Kyiv office.
First, a stand alone tweet from Sumlenny to sum up his view of what's happening. "I am a former Russian. And I know Ukraine and the history of its relations with Russia. That is why – being totally furious about #BuchaMassacre and other atrocities – I am not surprised or shocked at all. Not for a second. If you are – your knowledge of Russia was very weak."
Now the thread. I've tried to consolidate it into something more readable.
Russian occupiers seize and destroy Ukrainian textbooks, history books in Chernihiv, Sumy, Donetsk and Luhansk regions. They are searching for books about Ukraine's struggle for independence, Maidan and war, Ukraine Defense Intelligence said.
This is a continuation of a 300 years long genocide. Let me illustrate it in this thread.
Since at least 300 years, Russia tried to eliminate Ukrainian national identity, focusing mostly on Ukrainian language and culture. In 1720, Russian Emperor Peter the Great ordered to destroy all theological books printed in Ukrainian language. In 1760s, Russian Empress Catherine II (actually an icon for infamous Angela Merkel) instructed Count Vyazemsky to develop a program of russification of Ukraine: "so they start to feel Russian and forget the idea to leave us". In 1862, over 100 Ukrainian Sunday schools were closed. In 1863, Russian minister of internal affairs Valuyev issues a "Valuer Circular" stating that Ukrainian language "has never existed, does not exist and cannot exist". Compare this to modern Putin's statements.
In 1876 Russian emperor Alexander II issues the "Ems decree" banning Ukrainian language from almost every part of life.
The Ems Decree banned:
– any import of any book in Ukrainian;
– any print of any book in Ukrainian, except of some historical documents
– Any theater plays in Ukrainian;
– Print of any libretto, songs etc. in Ukrainian;
– Any public declamation in Ukrainian;
The Ems Decree ordered as well to ban Ukrainian scientists/authors Dragomanov and Chubinsky from living in Ukraine.
Ukrainian poets were prosecuted. Pavlo Hrabovsky was arrested in 1885 with his wife Nadia Sigida, after a typography was seized in their house. Pavlo was sent to Siberia, where he died in 1902, and Nadia to Kara, on Arctic Ocean, where she committed suicide after being tortured. The icon of Ukrainian poetry Taras Shevchenko was sent as a soldier (a typical punishment in Tsarist Russia) to Siberia and Kazakhstan, it was forbidden for him to paint and to write poems (he secretly did both, leaving beautiful poems and graphics, incl. ones of RU violence)
Ukrainian language was declared a "lesser brother" of Russian, with Russian language as the dominant one. Ukrainian language was reformed in order to russify it. Certain letters were abolished (ґ), vocative case was declared "not necessary" (there is no vocative in Russian) many scientific words existing in Ukrainian were canceled and substituted by Russian ones. Later this was used by Russians to "prove" that Ukraine does not have its own scientific tradition. For example, the name for quicksilver, Ursa Major constellation etc. were changed.
Those who tried to preserve national traditions, were prosecuted. In 1972, 14 students and artists were arrested by KGB in Lviv for participating in non-political celebration of Christmas accord. to Ukrainian national tradition: with songs, costumes etc. As a result of the whole "Operation Block" KGB had arrested nearly 90 persons. Ukrainian poet Vasyl Stus was one of those who were targeted. He spent 5 years in Soviet camp, and after he returned home, he was arrested again – and died (was killed) in Siberian camp in 1985.
Daily atrocities against Ukrainian language continued. I will not go into details after the fall of the USSR in this thread, but it is illustrative, that even 30 years after the USSR, Ukrainian national IDs used to have a page in Russian with a translation of names into Russian! Have a look: this Ukrainian citizen was born 1 year after the collapse of the USSR. He has his Ukrainian ID issued approximately in 2008. Still, there is a page in Russian, where his Ukrainian name Yevhen is "translated" into Russian as "Yevgeny".
This is clearly the consequence of centuries of oppression and traumatisation. That is why I am absolutely not surprised that Russian occupiers hunt libraries and destroy books. Because for them it is a very natural way of destroying Ukraine – the way they go since 1720 at least.
Comment: I agree with Sumlenny. The invasion, the attempted destruction of Ukrainian history and culture, the atrocities of Bucha and beyond are all expressions of this continued Russian desire to eradicate the very idea of Ukraine. That's the idea behind the whole country 404 thing. Putin has bitterly complained about the terrible mistake of allowing the creation of a Ukrainian Soviet Socialist Republic. Yes, a Western facing Ukraine and the idea of Ukraine as a NATO member does present a real security concern to Russia, but just the mere existence of Ukraine seems to strike at the heart of Russian psyche.
OTOH, this deep seated Russian phobia does not define the state. Russia has a rich history of accomplishments in the arts, sciences and technologies. All those lacquer boxes I acquired bargaining with Russians at the trunks of their Ladas in the shadow of the Brandenburger Tor are but one small example. I cherish those conversations as much as I cherish those boxes. The Russians are a good people. But Russia also has a rich history of kleptocracy and corruption that became embarrassingly apparent in the early performance of the Russian forces in this invasion. However, Russia certainly does not have a monopoly on kleptocracy and corruption.
TTG