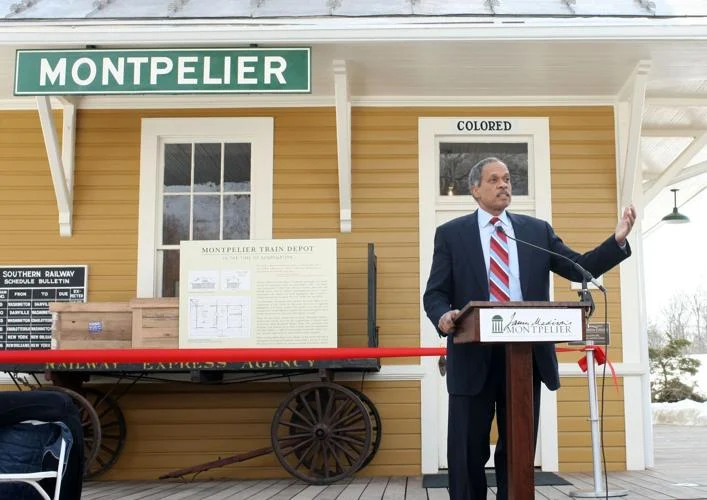 By ALLISON BROPHY CHAMPION CULPEPER STAR–EXPONENT
As with snail mail, information was slow in coming. But it's faster to realize that more conversation is needed about the difficult history of race in America, in Virginia and at James Madison's Montpelier. The U.S. Postal Service cites "unacceptable" history as the reason it closed the rural post office next to James Madison's Montpelier on State Route 20, Constitution Highway, in Orange County. Madison was the fourth U.S. president.
The agency shut its Montpelier Station Post Office in June because it objected to an exhibit there about how the depot was once racially segregated, a Postal Service spokesman said.
"Service at Montpelier Station was suspended after it was determined the display at the site was unacceptable to the Postal Service," USPS spokesman Philip Bogenberger emailed the Culpeper Star–Exponent on Aug. 9. "While we attempted to address the issue with the property owner, that effort was unsuccessful, and it was decided that the proper course of action was to suspend the facility and provide service to our customers from nearby postal retail units," Bogenberger wrote.
But Elizabeth Chew, Montpelier's interim president and CEO, said, "The U.S. Postal Service did not contact the current CEO or chief of staff, nor did it contact the previous CEO or chief of staff."
Bogenberger declined to answer questions about who with the Postal Service considered the exhibit objectionable, and what they found unacceptable. He did not answer questions about whether there had been a public hearing on the matter or if the Montpelier post office is permanently closed. "Please use the statement already provided," Bogenberger emailed Friday. (There's a lot more. Continue reading at the link.)
https://fredericksburg.com/news/local/postal-service-shuts-montpelier-station-office-over-racial-segregation-exhibit/article_061b38fb-d668-59bb-9750-9f8150ecec94.html#tracking-source=mp-homepage
Comment: This is another great local story from today's front page of my morning paper, The Free Lance-Star. The reporter actually works for the Culpeper Star-Exponent. She's been a reporter for the Star-Exponent since 2000, but began her "newspaper career" delivering the local paper as a kid in New Jersey. I did the same as a kid in Connecticut. It was my first paying job.  
I don't know at what level of the USPS that the decision to close this post office occurred. What truly surprised me was that this segregation exhibit was in place in 2010, long before all the hullabaloo about being woke and CRT. It was just history, something that happened in the past. Why did someone in the USPS finally get a hair across their ass and decide to shut this rural post office down? Were they waiting for today's atmosphere rife with outrage and victimhood to right this grievous wrong of exposing a chapter of local history?
It would be unfair to call this Philip Bogenberger a narrow minded horse's ass. He's just the spokesperson. But there is at least one narrow minded horse's ass somewhere in the USPS. Who ever it is and whatever the reasons, it's a sad state of affairs.
TTG