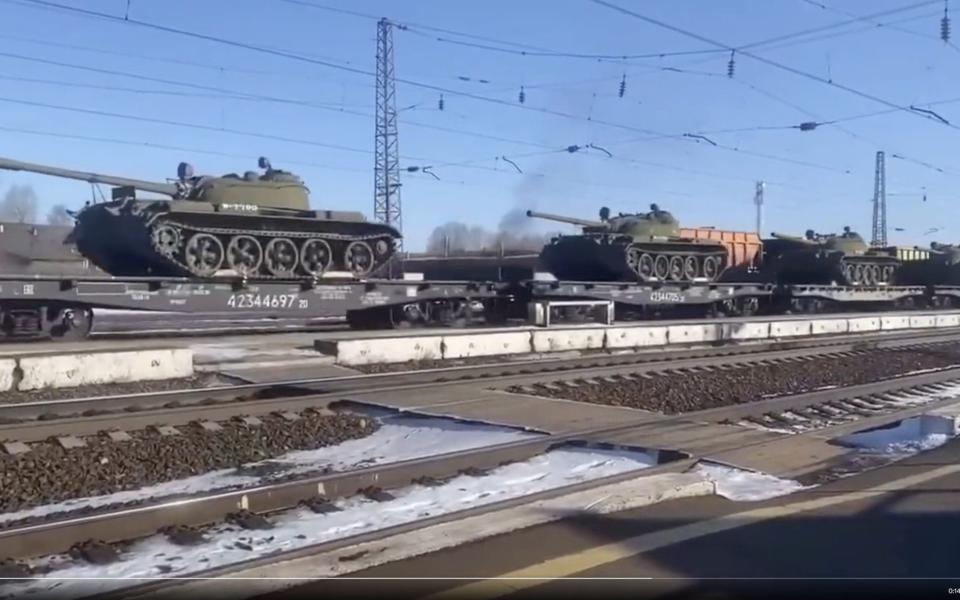 Russia appears to have pulled 1950s-era tanks out of storage in the latest sign of a serious armour shortage in its army. Pictures and video have emerged of what experts say are T-54 and T-55 tanks being transported by rail from a military depot for mothballed equipment in Russia's far east. If sent into Ukraine the vehicles would likely become the oldest main battle tanks used in the conflict.
The images were obtained by the Conflict Intelligence Team (CIT), an independent Russian intelligence group. It did not reveal how it had obtained the pictures or where they were taken. Other social media channels later released video footage of what appeared to be the same train. CIT said used transport databases showed the train had departed from Arsenyev, the town in the far eastern Primorsky region. Arsenyev is the location of the 1295th Central Tank Repair and Storage Base, a large facility for mothballed military equipment.
It is not clear what the tanks' destination is, or whether they will ever see combat. But the fact they have been taken out of storage was taken by experts as further confirmation of a high level of attrition of more modern vehicles. "What this tells us is that all the remaining modern tanks are in or around Ukraine. So there are no more modern tanks left in stockpiles. It suggests they've used up all the T-62s they have in service so they are down to T-55s," said Ben Barry, an armoured warfare expert at the think tank, referring to another obsolete tank Russia has used to plug gaps in its arsenal. "It suggests the Ukrainians are continuing to knock out their modern tanks and the proportion of modern tanks being used against Ukraine begins to decline – at a time when the West is supplying modern tanks."
https://www.yahoo.com/news/russia-hauls-1950s-era-tanks-175249705.html
Comment: Russia has thousands of T-72s still sitting in Siberian boneyards. Apparently they've went through all the salvageable ones. The T-55s, although older, remain salvageable because they're far simpler, less components to rot or rust away or worth stealing and selling off. I think a big problem is going to be their 100mm rifled main gun. How much serviceable ammunition for those relics are in the inventory?
It's better to consider these T-55s to be infantry support vehicles rather than MBTs. In that role, they'll probably be adequate. Remember, the Ukrainians received a battalion of super upgraded Slovenian M-55S tanks back in December. At least those have upgraded engines, armor, comms, optics and most importantly the British L7 105mm main gun.
I would have thought Putin would have gotten a thousand MBTs from his new best friend, Xi, along with enough artillery and artillery ammunition to truly change the calculus of the war. I guess the limitless partnership does have limits.
TTG