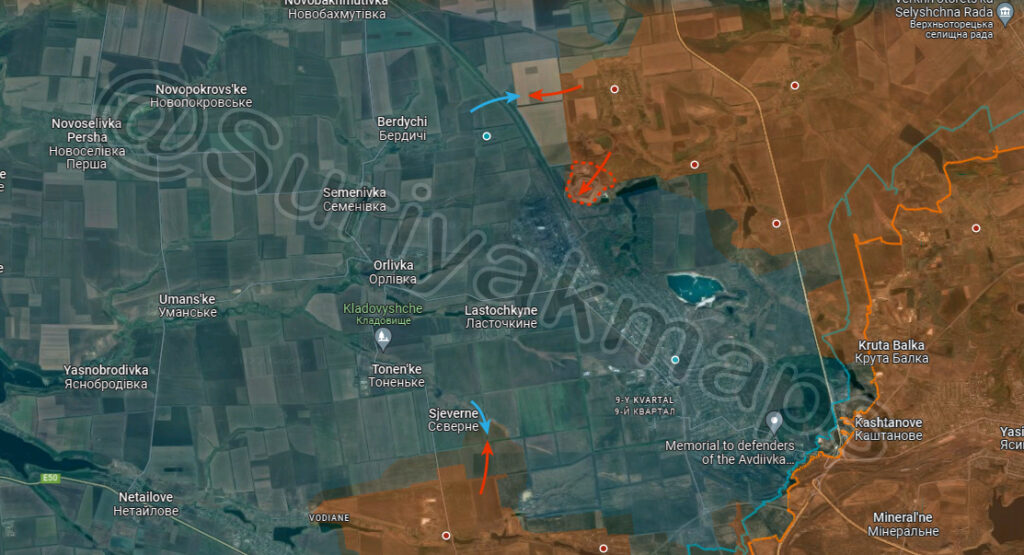 Avdiivka….the last few days it became clear why the Russians inserted their 25th CAA into the sector Svatove-Kremina, and withdrew the 1st GT and the 41st CAA from there, back in September: they've re-filled battered units, and then re-deployed them in the Avdiivka sector. Four days ago, these have launched a pincer attack, supported by heavy air strikes (mostly 'spray & pray' style, by Su-25s, but few by Ka-52s and Mi-28s), and extensive volumes of artillery fire.
Sufficient to say that as of the morning of 10 October, this counteroffensive ended in a veritable catastrophe. Essentially, at least two, possibly three huge Russian columns were detected (by UAVs)  while still some 5,000-10,000 metres behind the frontline. And hit by artillery. The carnage continued as they continued pushing in the same direction, and by the time they actually crossed over 'starting positions' – only to run into minefields and receive yet more of artillery fire – most of mechanised force was decimated. Thus, it was primarily on Storm-Z convicts, supported by few scattered tanks and infantry fighting vehicles to try advancing….videos of their attempted advances were…. 'grim'.  
As far as I can say, the Russians pushed hardest on positions of the 116th TD Brigade, but even this experienced few problems to beat them back. The 79th Airborne had some 'good times', too.
Ukrainians are reporting the total scope of this Russian operation with, 'unseen since the first days of the war'. Much larger than during attacks on Vuhledar from January-February this year. Just awfully planned, composed, and run. They are estimating losses of the 90th Tank Division alone at 820 killed and wounded, about 80 armoured vehicles (including at least one BMPT Terminator), 18 artillery pieces, more than a dozen of multiple rocket launchers, and about 30 other vehicles. The VKS lost at least one Su-25.
https://xxtomcooperxx.substack.com/p/ukraine-war-11-october-2013?utm_source=profile&utm_medium=reader2
Comment: There was a lot of anticipation brewing about this Russian offensive. I've even seen a bit of here. But, as Tom Cooper describes, the Russian offensive failed miserably. In the process, the Russians lost a lot of men and equipment. It was a repeat of the failure before Vuhledar back in January. The lesson of that battle was that advances led by armored columns don't work anymore… at least when opposed by highly accurate artillery and ATGM fires, rapidly emplaced extensive minefields and, of course, ubiquitous drones. The Ukrainians learned that lesson for themselves in the first few days of their counteroffensive. Apparently that wasn't enough evidence for the Russians. They had to test the hypothesis once again before Avdiivka. Well, the results were indeed repeatable. The hypothesis has, at the minimum, reached the level of tested theory. Eureka!
The goal of the Avdiivka offensive was to encircle and eventually take the city. In the process, it was to draw Ukrainian reserves away from the Melitopol and Bakhmut fronts. It was a reasonable assumption. The cry of "Avdiivka Holds!" was surely as alluring as "Bakhmut Holds!" and "Severodonetsk Holds!" before that to the Ukrainians. Unfortunately for the Russians, the armored columns were defeated without the help of Ukrainian strategic reserves. What the offensive accomplished was to aid the Ukrainian strategy of attriting Russian forces. The Russians took a hell of a shellacking in a few days. And it took them months to assemble those forces.
On the other hand, this shows the Russians are not reduced to a state of passive inaction. They can still plan and resource offensive action. They just can't carry it out. It also means a Russian military collapse is far from imminent. The Russians have proven they can defend competently. Their mistake lies in trying to carry out offensive actions forward of their defensive lines rather than limiting their offensive action to hitting Ukrainian penetrations of those defenses. I think the Ukrainians have picked up on this weakness and have modified their tactics accordingly. Their goal, for now, is to find and fix Russian forces in place and destroy them rather than gain ground. Those tactics are forcing the Russian units to sally forth from their defensive positions to be picked off by precision artillery strikes and kamikaze drones.
TTG