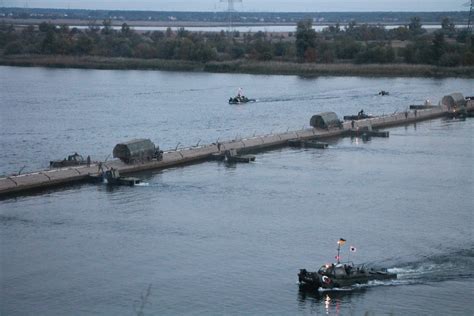 Thousands of Russian troops posted west of Ukraine's Dnieper River have found themselves in a vulnerable position as Ukrainian forces have blocked most eastern supply routes, the U.K. defense ministry said Saturday.
British intelligence has assessed that two primary bridges in the occupied region of Kherson are now unusable for the transport of heavy military vehicles after Ukrainian precision strikes again targeted one of the crossings Wednesday.
"Russia has only succeeded in making superficial repairs to the damaged Antonovsky road bridge which likely remains structurally undermined," the U.K. intelligence update said. 
UKRAINE TAKES OUT KEY BRIDGE 'DESTROYING' RUSSIAN PLANS FOR SOUTH 'ADVANCEMENT'
Ukrainian forces began targeting major crossings relied on by Russian forces in the region for resupply routes and access to the Crimean Peninsula last month.
A rail line is also believed to have been damaged beyond use.
Russian troops have since been forced to rely on pontoon bridges to transport men and supplies over the river that separates Ukraine's southwestern regions from Crimea.
"Even if Russia manages to make significant repairs to the bridges, they will remain a key vulnerability," the U.K. defense ministry assessed. "Ground resupply for the several thousand Russian troops on the west bank is almost certainly reliant on just two pontoon ferry crossing points."
Comment: I get a big kick out of the TuckerCarlson/MacGregor/TulsiGabbard crowd who blather on about "competent military analysis" and "inevitable Russian victory" while ignoring things like this. There has to be an interesting propaganda apparat supporting all the BS
Tucker Carlson should bestir himself to go to Ukraine and visit both sides. pl
Thousands of Russian troops reliant on vulnerable pontoon crossings as Ukraine blocks southern supply routes | Fox News