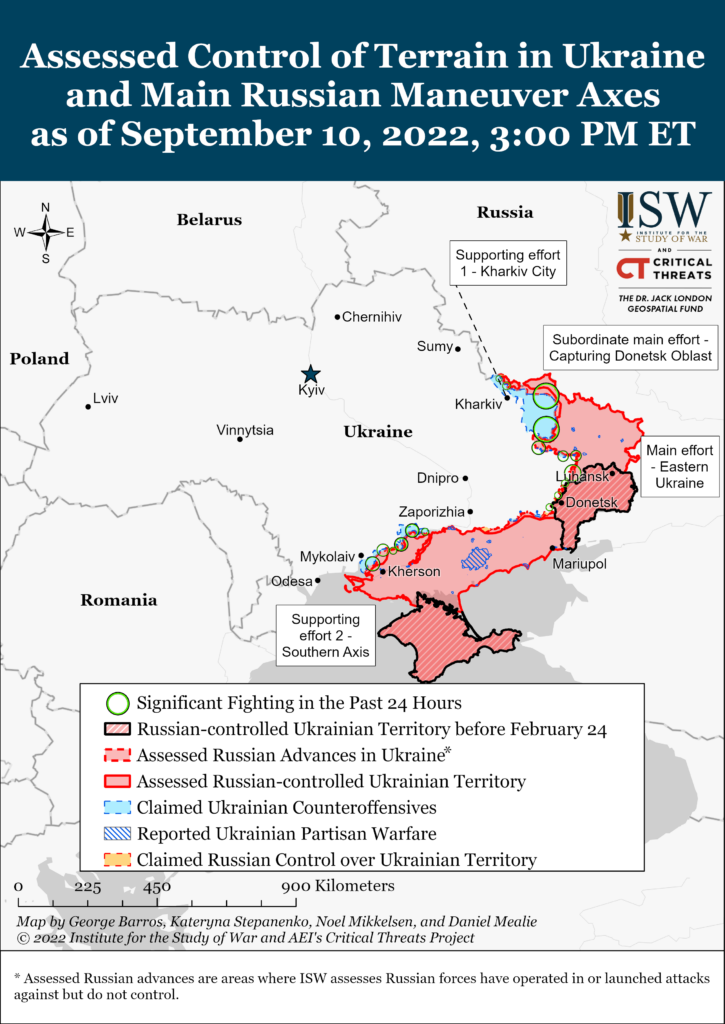 "Igor Girkin, a former commander of pro-Russian separatists in Ukraine, said on Saturday that Ukrainian troops have "already won" the war against Russia.
Russian President Vladimir Putin launched his invasion of the Eastern European country on February 24, and was met with a strong defense effort from Ukraine, which was bolstered by military aid from its allies. Despite the vast size of Russia's military, Moscow has failed to achieve any major goals. Ukrainian forces launched counteroffensives in recent days in Kherson and the Kharkiv region in an effort to take back territory.
On Saturday, Ukrainian troops made significant gains near Kharkiv, the second-largest city in Ukraine—forcing Russia to retreat from key cities including Izium and Kupyansk, according to Radio Free Europe.
Girkin, who also goes by Igor Strelkov, has long been seen as an anti-Ukraine hardliner. However, he acknowledged Ukraine's victory in a Telegram post Saturday."
Russia Sees 'Major Defeat,' Ukraine Has 'Already Won': Ex-Military Leader (newsweek.com)
The Ukrainian counteroffensive in Kharkiv Oblast is routing Russian forces and collapsing Russia's northern Donbas axis. Russian forces are not conducting a controlled withdrawal and are hurriedly fleeing southeastern Kharkiv Oblast to escape encirclement around Izyum. Russian forces have previously weakened the northern Donbas axis by redeploying units from this area to Southern Ukraine, complicating efforts to slow the Ukrainian advance or at minimum deploy a covering force for the retreat.Ukrainian gains are not confined to the Izyum area; Ukrainian forces reportedly captured Velikiy Burluk on September 10, which would place Ukrainian forces within 15 kilometers of the international border.[1] Ukrainian forces have penetrated Russian lines to a depth of up to 70 kilometers in some places and captured over 3,000 square kilometers of territory in the past five days since September 6 – more territory than Russian forces have captured in all their operations since April. Ukrainian forces will likely capture the city of Izyum itself in the next 48 hours if they have not already done so. The liberation of Izyum would be the most significant Ukrainian military achievement since winning the Battle of Kyiv in March. It would eliminate the Russian advance in northwest Donetsk Oblast along the E40 highway that the Russian military sought to use to outflank Ukrainian positions along the Slovyansk – Kramatorsk line. A successful encirclement of Russian forces fleeing Izyum would result in the destruction or capture of significant Russian forces and exacerbate Russian manpower and morale issues. Russian war correspondents and milbloggers have also reported facing challenges when evacuating from Izyum, indicating Ukrainian forces are at least partially closing a cauldron in some areas.[2] The Russian Ministry of Defense (MoD) announced the withdrawal of troops from the Balakliya-Izyum line on September 10, falsely framing the retreat as a "regrouping" of forces to support Russian efforts in the Donetsk Oblast direction – mirroring the Kremlin's false explanation for the Russian withdrawal after the Battle of Kyiv.[3]The Russian MoD did not acknowledge Ukrainian successes around Kharkiv Oblast as the primary factor for the Russian retreat and claimed that Russian military command has been carrying out a controlled withdrawal from the Balakliya-Izyum area for the past three days. The Russian MoD falsely claimed that Russian forces undertook a number of demonstrative actions and used artillery and aviation to ensure the safety of withdrawing Russian forces. These Russian statements have no relation to the situation on the ground.
ISW assessment as of 110 September 2022
Comment: Looks like the Rooshians were way past the "culminating point" of their effort in Ukraine. They are now paying the price for that.