*with apologies to Frank Capra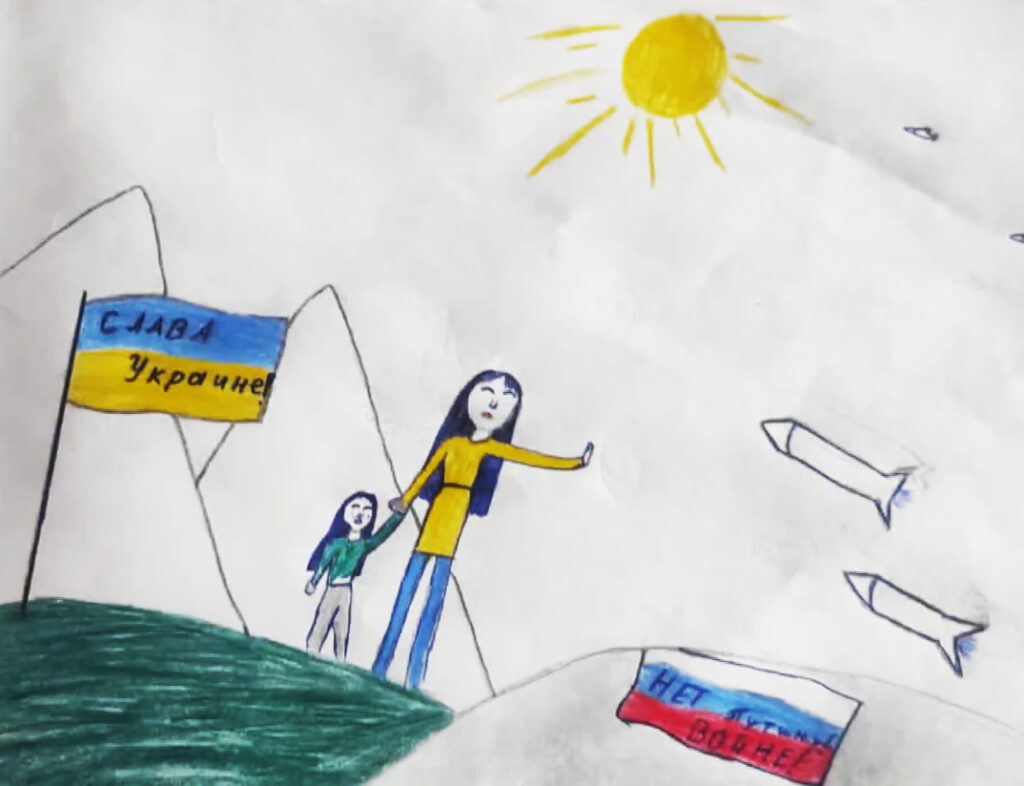 RIGA, Latvia — A Russian court on Tuesday ordered a two-year jail sentence for the single father of a 13-year-old girl who drew an antiwar picture in art class at school, in a case that led to the daughter being seized by authorities and placed in an orphanage. But in a stunning turn, the father, Alexei Moskalyov, 54, escaped from house arrest on Monday night, opting not to wait for the almost-certain guilty verdict after the state prosecutor demanded the two-year jail term on Monday.
Moskalyov was sentenced under Russia's draconian laws against "discrediting the military," which were adopted after President Vladimir Putin ordered his brutal invasion of Ukraine last year. The laws ban any form of antiwar dissent and are part of a wave of political repressions that have only worsened as Russia's war effort floundered.
Moskalyov, of Yefremov, a town near Tula, about 150 miles south of Moscow, was charged in December over antiwar posts on social media. But he and his daughter, Maria, were targeted by the authorities beginning last April, when she was denounced by her teacher after drawing a picture in her elementary school art class that said "No to war" and "Glory to Ukraine." In the picture, Maria, then 12, drew a woman standing in front of the Ukrainian flag sheltering a child from missiles. Her sixth-grade class had been assigned to draw a patriotic picture of Russian soldiers. The principal reported Maria to Russian authorities. The teacher reported Maria to the school principal, who called in law enforcement.
Earlier this month, Moskalyov was placed under house arrest and his daughter was taken by the authorities to an orphanage with no access to family, friends or supporters. They have tried to reach her on her cellphone, but it has never been answered.
Full free version of the WaPo article gifted by yarko (@yarkot)
Comment: This story appears to have been first picked up by Meduza and then by the BBC and the Washington Post. I hope it spreads a lot further and for a lot longer. It's a simple straightforward illustration of what Russia under Putin has become. I was still working in intelligence when Putin was just coming into power. I was a fly on the wall when the media crew of Единая Россия (United Russia) was devising and began implementing their internal and external campaigns of information confrontation. Yes it was the reflexive control that I wrote about seven years ago. The imprisonment of this father and the seizure of his daughter is the natural outcome of that internal campaign. Such moral and intellectual bankruptcy.
In his brief concluding statement when Alexei Moskolev did show up in court months ago, he stated: "If you ask right now, what is your attitude to the 'special operation' in Ukraine, I think that 90 percent of the people in this room will say they're against it. And I will agree with them. What else can you say about those deaths, about people being killed? About the adults and children who are all dying. You can only condemn it, what other attitude could you possibly have."
The man has stones. He's most likely right about the 90 percent of the people in the courtroom and in his neighborhood. The reaction of Olga Podolskaya, the town councillor is probably typical, "A prison term for expressing your opinion is terrible." I sincerely hope he is able to free his daughter and escape to freedom… maybe with the assistance of some of his neighbors. Not all Russians have fallen for the claptrap coming out of Moscow.
TTG