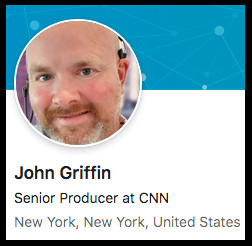 By Robert Willmann
Last Friday, 10 December 2021, a man named John Griffin was arrested for sex crimes. News reports described him as a producer for the CNN television network, and that the court case originated in the State of Vermont and the offenses involved young girls. He lived in Stamford, Connecticut and appeared in federal court in New Haven, Connecticut by video conference for an initial appearance. He remained in custody and by court order will be transferred to the federal district court in Vermont. His arraignment hearing, at which he will be formally informed about the charges and will enter an initial plea, is presently set for Tuesday, 15 December 2021, at 11:00 a.m. in Burlington, Vermont [1].
The indictment contains just barely enough of the manner and means by which the alleged offenses were committed to support a charge, and does not have nearly the detail seen in other federal cases. Some federal indictments read like entries in a short story competition.
The three charges are based on Title 18, U.S. Code, section 2422(b), about a person who "persuades, induces, entices, or coerces any individual who has not attained the age of 18 years, to engage in prostitution or any sexual activity for which any person can be charged with a criminal offense, or attempts to do so …." [2] The first two counts allege that Griffin "attempted to" do this in chat sessions using the Google Hangouts computer program. The first count alleges the communications were with the purported father of a 14-year-old daughter and included Griffin claiming that he had "sexually trained girls as young as 7 years old", and contained his description of what some of the "training" would be. The exchanges were between 7 and 13 April 2020. The second count concerns communications between 12 and 13 June 2020 with a person purported to be the mother of a 16-year-old daughter, in which Griffin suggested that the mother and daughter take a trip to his "Ludlow, Vermont ski house for sexual training".