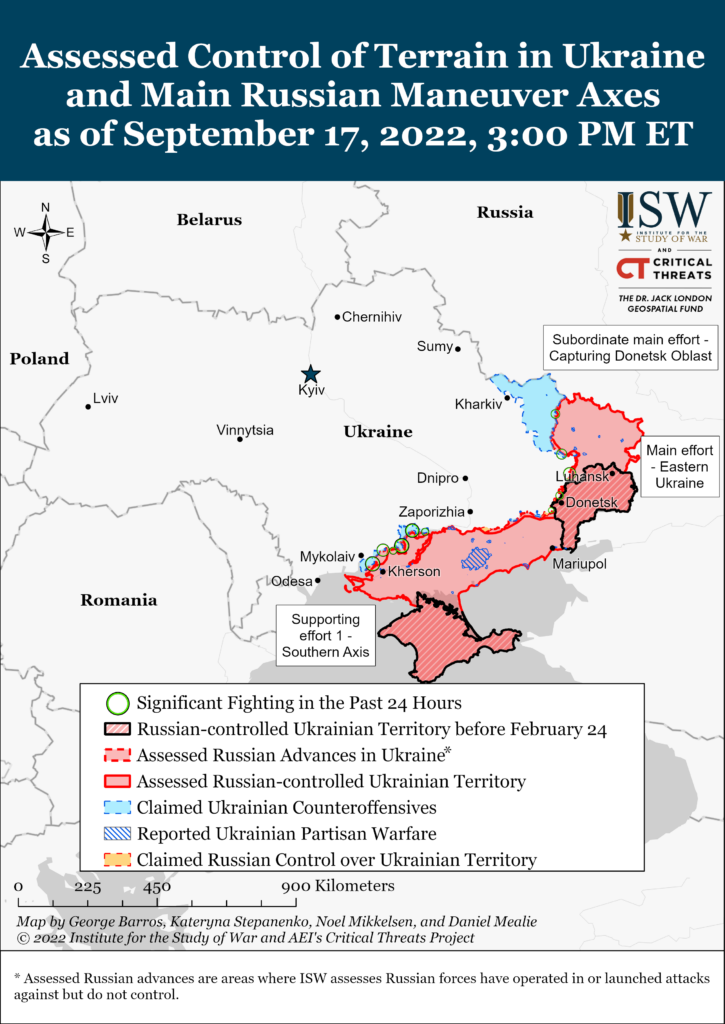 Russian forces continue to prioritize strategically meaningless offensive operations around Donetsk City and Bakhmut over defending against continued Ukrainian counter-offensive operations in Kharkiv Oblast.
Ukrainian forces liberated a settlement southwest of Lyman and are likely continuing to expand their positions in the area.
Ukrainian forces continued to conduct an interdiction campaign in Kherson Oblast.
Russian forces continued to conduct unsuccessful assaults around Bakhmut and Avdiivka.
Ukrainian sources reported extensive partisan attacks on Russian military assets and logistics in southern Zaporizhia Oblast.
Russian officials continued to undertake crypto-mobilization measures to generate forces for Russian war efforts.
Russian authorities are working to place 125 "orphan" Ukrainian children from occupied Donetsk Oblast with Russian families.
Comment: The Russian chain of command appears to be incapable of making rational decisions. Whether this is due to their own ignorance of military science and art or political interference in command decisions is not clear.
In spite of Russian ineptitude IMO, it is critical for Ukraine to consider if it has enough resources in the Kharkiv sector to allow it to attack south to achieve encirclements without exposing what might be a vulnerable flank to the east.
What looks like an emerging total collapse of Russian forces in Ukraine will continue to develop if continual pressure is maintained. pl