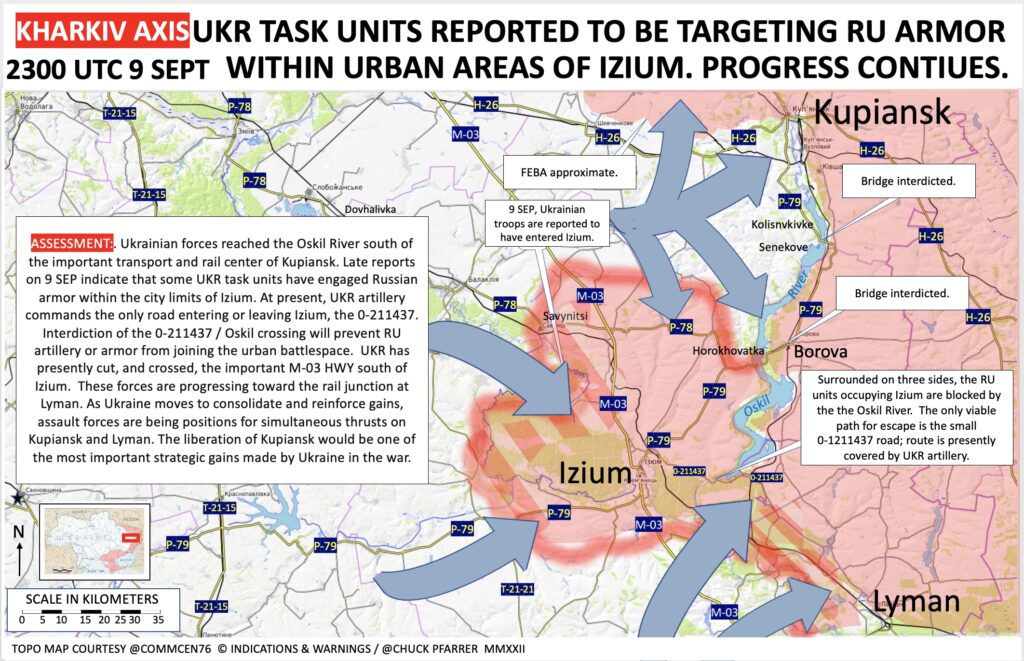 KHARKIV /1440 UTC 9 SEP/ Ukrainian forces have reached the Oskil River south of the important transport and rail center of Kupiansk.  Russian units  are in increasing disarray with the capture of Russian Lieutenant General Andrei Sychevoi, who was the frontal commander.
KHARKIV/ 2300 UTC 9 SEP/ Late reports on 9 SEP indicate that some Ukrainian task units have engaged Russian armor within the city limits of Izium. At present, Ukrainian artillery commands the only road entering or leaving Izium, the 0-211437. This will seal the urban battle space.
https://twitter.com/ChuckPfarrer/status/1568373140480221184/photo/1
Comment: I've seen rumors of fighting reaching Izium all day. I haven't seen any refutations of those rumors. If the map above is accurate, this could be the first major cauldron, outside of Mariupol, of the war. Should be a couple more Russian general officers in this one. With a few more speedy thrusts, perhaps we'll see mass surrenders rather than mass slaughter. That would be costly for Ukraine.
The success of this offensive was made possible by Ukraine's deception on a grand scale. The coming assault on Kherson was telegraphed loudly over the entire summer. Sufficient forces were deployed to this front to reinforce the deception. Long range fires and partisan activity were visibly preparing the battlefield for the expected offensive. After all, this was the logical objective for the long awaited counteroffensive. Even the conduct of the counteroffensive, once it was launched, appeared to give the Russians the illusion of a successful defense if only they committed enough forces, logistics and attention.
Meanwhile, Ukraine managed to mass enough fresh troops in the east to launch a surprise counteroffensive where the Russian line was weakest. Surprisingly, this spot was practically on the Russian border. This attack needed the element of surprise that the Kherson attack deliberately lacked. The Kupiansk thrust was coordinated with supporting attacks towards Lyman and Izium itself. Well, as the Brits say, he who dares, wins.
TTG