"Top military officials wrapped up the second day of testimony on Capitol Hill over Joe Biden's botched Afghanistan withdrawal. In Wednesday's House Armed Services Committee hearing, Joint Chiefs Chairman Mark Milley and Defense Secretary Lloyd Austin continued to contradict Biden's public claims about pulling troops out of the country.
Milley said he believed a small troop presence should have remained in Afghanistan a year before the withdrawal, which was a stance directly conveyed to the commander-in-chief.
"In the fall of 2020, my analysis then was that an accelerated withdrawal without meeting specific and necessary conditions, risks losing the substantial gains made in Afghanistan, resulting in a complete Taliban takeover or general civil war," said Gen. Milley." OANN
Comment: I have an esthetic objection to all that tin and ribbons that the generals, and admirals hang all over their "star suits." Milley looked ridiculous. I have a lot of tin for my "eagle suit" if I were ever to wear it again, but I would not wear it. This kind of display makes one look juvenile and probably possessed of a weak ego.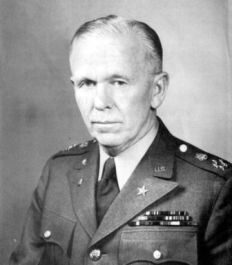 Get the point? IMO military people should be allowed to follow George Marshall's example and should do so. Less is more.
Nevertheless, I thought Austin, McKenzie and Milley did well, far better than I had expected. Without condemning the Commander in Chief in so many words they made it clear that it was Biden who made the fatal and deluded decisions that led to disaster in Afghanistan. They told him that sufficient force should be kept in country to hold Bagram air base, keep a defense force at the embassy and at Kabul International until a complete withdrawal of civilians of various kinds was accomplished. IMO this would have amounted in the aggregate to some 10,000 of our military. Would that have meant renewed hostilities between us and the Taliban? Yes, but as Lt. Ord said as he lay dying on San Juan Hill "Its is for this moment that we are soldiers."
Rather than accept the advice of his senior military, Biden chose to put the military in support of the State Department, an organization given to fanciful dreaming. I have a long experience of them having headed the Defense Attaché System world wide. It was a joke among my officers that the Foreign Service's unofficial war cry was "Don't shoot, don't shoot, they'll kill us all!" I have found the Foreign Service of the US and their Borgist pals in the National Security staff to be utterly devoid of organizational ability, and they proved this to be true once again in Afghanistan in 2021
In any event, these three generals did the US military and the citizens of the US a great service in not allowing the Bidenista wokies and Marxists to scapegoat the "poor bloody infantry" once again. pl
https://www.oann.com/top-military-officials-continue-to-contradict-bidens-claims-about-the-u-s-withdrawal-from-afghanistan/