"Israeli security forces used stun grenades and rubber bullets against Palestinians outside the Al Aqsa mosque in Jerusalem, where thousands of worshipers had been attending Friday prayers, puncturing a half-day of calm brought on by a ceasefire between Israel and Hamas.A CNN journalist at the mosque compound said dozens of Israeli officers hit journalists with batons and tried to point rifles at them, calling them "liars" when they showed them their press cards.The officers moved on to the compound as thousands of worshipers chanted in solidarity with Gaza and with Palestinian residents of the East Jerusalem neighborhood of Sheikh Jarrah, where some Palestinian families are facing eviction.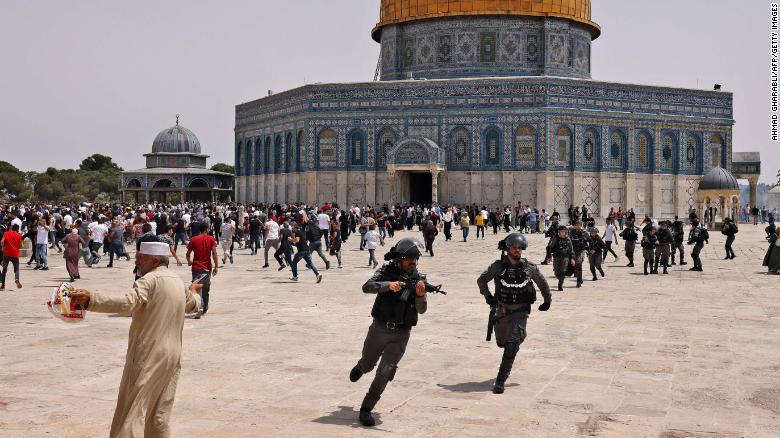 Israeli security forces and Palestinian worshipers clash in the Al Aqsa mosque compound in Jerusalem on Friday.An Israeli police spokesperson said the officers were responding to a riot by hundreds of young Palestinians that included the throwing of stones at police forces.CNN witnessed people, including screaming children, fleeing the scene to the sound of stun grenade blasts. The Palestinian Red Crescent said it treated 20 injuries following clashes between Palestinians and Israeli police at the compound. Two people were taken to hospital, while the rest were treated in the field, the aid group said.The mosque and evictions have been flashpoints in the recent conflict between Israel and the Palestinian militant group Hamas, which according to the Hamas-run health ministry, left 243 Palestinians in Gaza dead, including 66 children, and 12 in Israel — including two children — who died from militant fire, according to the IDF and Israel's emergency service." CNN
Comment: IMO Natanyahu does not want a truce with Hamas and the declared truce is merely a bone thrown to Biden. I expected a renewal of provocations in Jerusalem and here they are!
I expect Israeli Jews and all the little Zionist conditioned zombies in American right wing media to remain firmly on leash.
Foxnews is inhabited by many such zombies. pl
https://www.cnn.com/2021/05/21/middleeast/israel-palestinian-conflict-friday-intl/index.html